Reading in the news - Tue 28 Jan
28 January 2020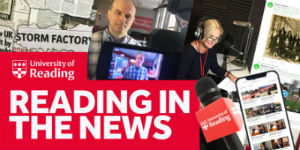 Coronavirus: Good Morning Britain on ITV interviewed Professor Ian Jones (Biological Sciences) on the latest on the spread of the coronavirus.
Football predictions: BBC Radio Berkshire (1h 39m 30s) interviewed Dr James Reade (Economics) on Reading's chances of promotion according to his score forecasting statistical model.
Plants and diseases: A repeat of Food Unwrapped on Channel 4 featured Dr Alastair Culham (Biological Sciences) talking about plants and fruits that can help fight diseases.
Other coverage