Reading in the news - Wed 29 Jan
29 January 2020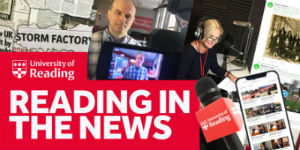 Coronavirus: Prof Ian Jones (Biological Sciences) is quoted in an article for CGTN about how the Chinese coronavirus differs from the flu.
Heatwaves: Medical Xpress, Eurasia Review, and News Medical report that China is likely to experience more deadly heatwaves, based on new UoR research. Dr Buwen Dong (Met) is quoted.
Oxford comma: Shelley Harris (English) spoke to BBC Radio Berkshire about the oxford comma, after author Philip Pulman took exception to the lack of one in a new 50p coin.
Other coverage
Hansard reports on a Westminster Hall debate led by Reading East MP Matt Rodda about fire safety in flats and shared housing, and mentions UoR's teaching in architecture and estate management.
An article looking at the potential positive role of CBD in sports recovery for Vents notes UoR Pharmacy research on CBD use for hunger management.
Stuff NZ covers the link between turbulence and climate change and quotes Prof Paul Williams (Met).