University named in Stonewall's Top 100 Employers
30 January 2020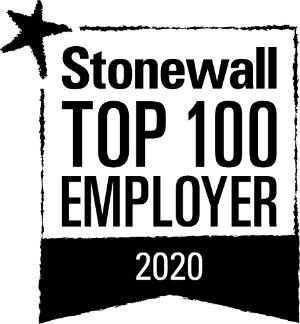 The University of Reading has remained in Stonewall's Top 100 Employers, according to the 2020 Stonewall Workplace Equality Index published today.
The University placed 93 out of the 503 employers who submitted for assessment in this year's index, with an improved score of 116.5. Nearly 54 educational institutions participated in this year's assessment, with Reading ranked 15th among these.
The Workplace Equality Index assesses employers on the work they are doing to encourage the inclusion of Lesbian, Gay, Bi and Trans (LGBT+) community. This relates to employee policy, employee lifecycle, staff network groups, allies and role models, senior leadership, monitoring, procurement, and customers, service users and clients.
In addition, employees of the organisation are also asked to complete an anonymous survey about their experiences of diversity and inclusion at work in relation to LGBT staff.
Thanks to the hard work of staff members across the institution, Reading's score has been improving steadily over recent years - from 98 in 2018 to 115 in 2019 to 116.5 this year.
Stonewall's assessment panel complimented the University on 'Faces of Reading' and the strength of internal communications. They noted: "It's great to see explicit statements of inclusion, diverse recruitment and clear signposting of your staff networks. The Faces of Reading is also such a great tool for encouraging diverse recruitment and showing your commitment to diversity and inclusion. Really good internal communications around specific LGBT days and also promotion of learning and development opportunities to LGBT employees."
The panel also commented that the University's LGBT+ Network is "very active and a key part of university life" and that there is high level of engagement from LGBT Allies across the institution. "The appointment of a 'lead ally' is also a good idea and it's good to see them lead on coaching and mentoring of other allies. Your support for employees to become LGBT role models is fantastic."
They also noted the "fantastic exposure and engagement" from senior leaders and how the University is utilising its "position in the local community to further LGBT rights".
New Dean for Diversity and Inclusion
Dr Allán Laville was appointed as the University's new Dean for Diversity & Inclusion in November 2018, replacing former joint deans Professor Simon Chandler-Wilde and Professor Ellie Highwood.
He began his six-year term on 1 January 2020. Dr Laville teaches Clinical Psychology at the University and was the Co-Chair of the LGBT+ Staff Network between August 2018 and December 2019.
As the Dean for Diversity and Inclusion, Dr Laville will work closely with the University Executive Board and other key partners to provide senior leadership support to building a diverse institution.
Speaking of the Stonewall Workplace Equality Index, Dr Laville said: "I am extremely pleased that we continue to be a Top 100 Employer in Stonewall's rankings. It reflects our ongoing commitment to our LGBT+ colleagues, and the hard work put in by our LGBT+ Network, RUSU officers and colleagues across the institution to make this an inclusive and welcoming place."
Zeid Sharif, Diversity Officer at Reading University Students' Union, said: "Top 100 for two years in a row is impressive, more so in view of the increased competition from employers. I feel privileged to have been involved in initiatives and campaigns that make Reading an inclusive and welcoming place to study and work, and I look forward to continued work on this."