Reading in the news - Thu 30 Jan
30 January 2020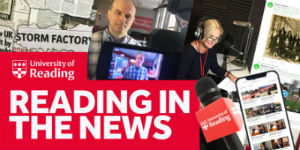 Health benefits of drinking tea: Dr Gunter Kuhnle (Food) comments on a study reported in The Times (£) and The Daily Mail that suggests drinking tea can help reduce the risk of Alzheimer's disease.
Widening participation: Dr Rachel South (Admissions) spoke to BBC Radio Berkshire (40 mins in) about what the University of Reading is doing to attract students from disadvantaged backgrounds.
Reducing carbon footprint: Dr Eugene Mohareb (SBE) was featured in a piece for BBC News Online entitled: Our Planet Matters: 'How we've reduced our carbon footprint'.
Other coverage
Prof Ian Jones (Biological Sciences) is quoted in an article for China Daily about how the Chinese coronavirus differs from the flu. Visiting Professor Ben Neuman is also quoted on this topic on ForeignAffairs.nz.
An opinion piece in The Guardian looking at how the four-day working week can be used to help tackle climate change references research from the University of Reading.
An article on Bloomberg Green on an alternative fuel for planes features comment from Prof Tom Oliver (Ecology and Evolutionary Biology).
Prof Glenn Gibson (Food) is quoted in Woman's Weekly (print) for a feature on improving digestion.
Med India reports that China is likely to experience more deadly heatwaves, based on new UoR research. Dr Buwen Dong (Met) is quoted.
Portfolio Advisor features an interview with Ben Goss, CEO of Dynamic Planner, about managing risk - in the article he references some work with Henley Business School.
Details of the funeral for Reading graduate Peter Iloot Otai, former State minister for Defence under Milton Obote II government, are published in The Daily Monitor and PML Daily.