Reading in the news - Wed 1 Jul
01 July 2020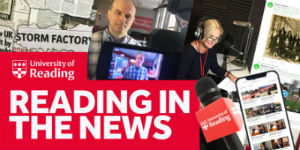 COVID-19: expert comment on the coronavirus pandemic
Dr Simon Clarke (Biological Sciences) spoke to BBC Radio 5 Live and BBC Radio Manchester about local lockdowns. He is also quoted in Daily Mail (and again, plus multiple other articles), Metro (print also) and MSN UK (and other national versions of the site).
Hot summers: The Telegraph reports on a warning from the Met Office that UK summers will regularly reach 40 degrees by end of the century, featuring comment from Simon Lee (Met).
Green mortgages: The Telegraph (print also), Mortgage Introducer, Mortgage Strategy and Financial Reporter cover the launch of a new research project to better understand the value of green mortgages and low energy homes. The articles quote Prof Sarah Sayce (Real Estate), who is involved in the project.
Forbury Gardens aftermath: Dr Melissa Snaith (Psychology) spoke to BBC Radio Berkshire about how Reading people are likely to deal with the emotional aftermath of the Forbury Gardens attack.
Other coverage