Reading joins launch of UK-wide platform to help disadvantaged students enter Higher Education
01 July 2020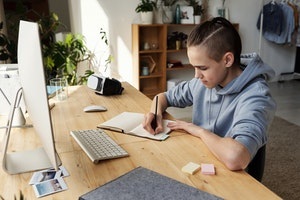 Young people who have missed out on opportunities to learn about going to University due to Covid-19 will benefit from a new online resource launched today (1 July) that 50 organisations including the University of Reading have joined forces on.
The new online hub 'Uni4Me' bringing together online activities aimed at promoting access to higher education and has been backed by the Minister of State for Universities, Michelle Donelan MP.
Uni4Me will offer free, interactive activities including virtual courses in a range of subjects led by university academics; online tuition and support in core GCSE/A Level academic subjects; live events involving leading academics, students and specialist HE advisors; information sessions for parents/carers and virtual campus tours.
Dr Rachel South, Head of Head of UK Recruitment and OutreachO at the University of Reading said:
"The Covid-19 pandemic has hit one of the most important parts of our work hardest, inspiring young people who might not otherwise consider going into higher education that they belong.
"The Uni4Me platform is a great opportunity for us to use lots of existing materials we've developed over years of working with schools and colleges to help more young people and their parents and supporters. Our smart series of online courses have already been uploaded to the platform and are geared towards helping to understand the process of entering higher education.
"We will be developing more material for the Uni4Me platform including a wide range of virtual and online subject tasters together with our popular HealthReach programme which aims to inspire young people to consider careers in healthcare), and extending our Smart courses with further content around all aspects of the student experience, including resources to support to access Higher Education, wherever young people might be considering applying to."
Minister of State for Universities, Michelle Donelan MP said:
"This has been an incredibly challenging time for pupils and it has never been more important for the sector to give every pupil the information and support they need to choose the right pathways for them. That is why I am delighted to launch Uni4Me, a platform to help students with the talent and ability to access and succeed within our world-leading universities, regardless of their background."
The online hub led by the National Education Opportunities Network (NEON) and funded by the participating organisations will act as central portal where learners, parents and teachers can access free activities to help them progress to HE.
Uni4Me will support HE providers and Uni Connect partnerships in their work to widen access to higher education for those from under-represented groups. Over £600 million in 2020-21 has being invested by HE providers and the government to close gaps in HE participation between those from different backgrounds.