Reading in the news - Thu 2 Jul
02 July 2020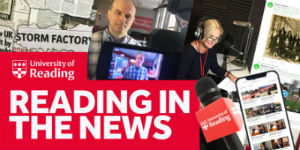 COVID-19: expert comment on the coronavirus pandemic
Climate stripes: BBC South and BBC Oxford feature the climate stripes graphic by Prof Ed Hawkins (Met), which demonstrates how global temperatures have been rising since 1884.
Other coverage
Farm Week reports on the Sustainable Agriculture Bursary, which is open exclusively to agriculture undergraduates at the Royal Agricultural University and the University of Reading.
An article in The Psychologist on tips for students about to start university life contains comment from Dr Alana James (Psychology) on the support options available at university.
A Landscape News article on some rare trees in South America references some climate modelling data produced by Oliver Wilson (SAGES) and colleagues.