Reading in the news - Fri 3 Jul
03 July 2020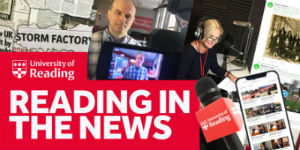 COVID-19: expert comment on the coronavirus pandemic
#WeAreTogether: Reading's work to help tackle the coronavirus crisis
Reading.co.uk cover a story about Dr Susanne Herbst (Pharmacy) who has been working at the Francis Crick Institute supporting their testing centre. Read our news story here.
Botswanan elephants: Dr Vicky Boult (Met) spoke to BBC World Service and a number of local BBC radio stations including BBC Berkshire about the deaths of hundreds of elephants
Other coverage
Food Navigator covers a new EIT Food-funded project looking at consumer attitudes towards 'healthier meat' which includes alternative protein sources. Dr Simona Grasso (Agriculture) is quoted.
EGI.co.uk reports on increasing diversity in the property sector, and notes the Pathways to Property scheme run by Henley Business School.