Reading in the news - Tue 7 Jul
07 July 2020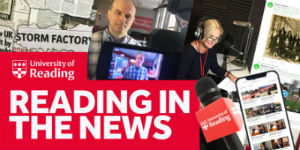 #WeAreTogether: Reading's work to help during the crisis
<!--[if !supportLists]-->- <!--[endif]-->Professor Gary Stephens (Pharmacy) spoke to Al Jazeera about how llamas at the University are being used for testing to develop treatments for COVID-19. Read our news story.
<!--[if !supportLists]-->- <!--[endif]-->Reading alumni Mark Stevenson (Read our news story) and Susanne Herbst (Read our news story) spoke to BBC Radio Berkshire about their work on the COVID-19 frontline as part of a series of interviews highlighting their contribution.
COVID-19: expert comment on the coronavirus pandemic
<!--[if !supportLists]-->- <!--[endif]-->Professor Ian Jones (Biological Sciences) is quoted in the Times on how long COVId-19 antibodies last.
<!--[if !supportLists]-->- Dr Al Edwards (Pharmacy) is quoted by the US Posts on the antibody tests purchased by the government.
Cinemas: Professor Peter Miskell (Henley Business School) is quoted by Huffington Post and Yahoo News on how cinemas are faring against competition from streaming services like Netflix.
Other coverage
Wokingham Paper reports on the Weather Game launched by scientists (Meteorology) at the University. Read our news story.
The Bookseller publishes a piece by Dr Nicola Wilson (English Literature) on diversity in publishing.
An article written for The Conversation by Dr Vicky Boult (Meteorology) about hundreds of elephants that have mysteriously died in Botswana is republished by Business Times Africa, The Print and Daily Hunt.
An article co-written for The Conversation by Dr Monika Parkinson is republished by Big News Network
Dr Tara Pirie (Biological Sciences) spoke on BBC Radio Berkshire about a tree frog that managed to travel from Colombia to a Wales supermarket in a bunch of bananas.
Crosswalk reports on research at the University of Reading investigating the link between poor sleep and mental health issues in teenagers.
PhD student Akshay Deoras (Meteorology) is quoted by Mid-Day on the picturesque skies over Mumbai.
The Street, Wall Street Online, Global Banking and Finance and several other titles report that Reading graduate Martyn Coombs has been appointed president of technology firm BWXT ITG Canada.