Dig into secrets of the past in national archaeology Q&A
08 July 2020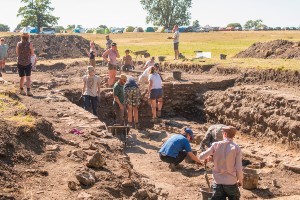 A glimpse into the past will be offered by archaeologists at the University of Reading as they take part in a Twitter Q&A this month.
Four experts will answer questions from the public on the truth behind the Crusades and colonisation, what life was like in Roman Britain, and what a person's skeletal remains reveal about their life.
The Q&A is part of the national #AskAnArchaeologist Day on July 15, run by the Council for British Archaeology.
Questions can be submitted in tweets by tagging @UniRdg_Arch and using the hashtag #AskAnArchaeologist in the lead up to and during the sessions.
Professor Mary Lewis, Head of Archaeological Science at the University of Reading, said: "We all get curious about what life was like centuries ago, and this is chance to get answers to those questions.
"Looking back in time and understanding the past is not only fascinating but it allows us to make sense of the landscape and society today. Research at Reading is constantly making new discoveries in some unusual places, revealing how our ancestors helped shaped the world as we know it."
Archaeological projects led by the University of Reading include investigations into the history of colonisation – a hot topic currently in light of debates around the Black Lives Matter movement and diversity. Research is exploring what archaeologists can contribute to understanding how crusading resulted in the creation of multicultural societies in the frontiers of medieval Europe.
Reading-led excavations of Roman buildings in Silchester, Hampshire, include uncovering a temple in a farmyard, along with unique tiles stamped with the name of Emperor Nero that suggest it was built during his rule between AD54-68.
The Human Professional Osteoarchaeology course at Reading teaches how examining human bones can tell us about how people lived and died hundreds, or even thousands, of years ago. Similar analysis is revealing what the Romans and Anglo Saxons ate and how pandemics like the Black Death were influenced by people's general health at the time.
#AskAnArchaeologist Day University of Reading Q&A schedule:
1pm-1.30pm Professor Mike Fulford: Roman Archaeology; Romans in Britain
1.30pm-2pm Dr Gundula Meuldner: Bioarchaeology; archaeology of food; isotope and chemical analysis of bones; dietary change and social identity in Britain
2pm-3pm Professor Mary Lewis: Human osteology; child skeletal remains; diseases in the past
3pm-4pm Dr Alex Pluskowski: The Crusades; castles; medieval Europe; zooarchaeology; environmental archaeology
Image caption: The University of Reading-led excavation in Roman Silchester