COVID-19: Face mask evidence in DELVE and SET-C reports - expert comment
07 July 2020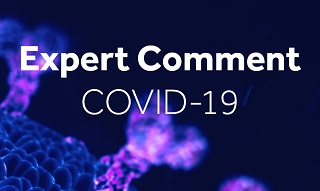 Dr Simon Clarke, Associate Professor of Cellular Microbiology at the University of Reading, said:
"Taken together, these two new reports offer good new evidence for policymakers looking to update advice on wearing facemasks. The review of behavioural studies is particularly useful, as is the acceptance that randomised controlled trials (RCTs) do not necessarily provide the 'best' scientific evidence for an intervention that is, by its nature, a behavioural one.
"I have been sceptical to date with how some previous scientific evidence on face masks has been presented, including the Royal Society's previous review on the matter, which was widely criticised at the time. Some reviews and analyses have used scant and superficial evidence to justify demands for policy change.
"This new SET-C report includes analysis of how conflicting messages, including from people deliberately or mistakenly characterising disagreements, has led to lower take-up of masks in the UK. While the lockdown was maintained, and consistent policy was to 'stay at home' to avoid risk of infection, this was less of a problem. Given that, in early spring, panic buying led to shortages of all kinds of essential items, it is also understandable that the government did not want to exacerbate shortages of PPE that were essential for healthcare workers.
"Now restrictions on movement and activities are coming to an end, the infection peak has reduced, and we have more evidence from around the world, it is time that the government refreshes its entire package of advice on reducing infections. As the new SET-C report makes clear, people need clear and consistent advice on reducing risks to themselves and others.
"How information is communicated is almost as important as what is said, as poorly thought-through messages can lead to dangerous or counter-productive outcomes. Mass behavioural change, such as reduction in rates of drink-driving or smoking, do not come about overnight, but from a complex package of incentives, laws, taxes, messages, stories and beliefs. Science can provide the evidence, but as we know, people rarely respond most effectively to rational evidence. Scientists and doctors need to show some humility and not present their untested ideas as though they were facts.
"As this report shows, it is possible to convince people to start wearing masks en masse, even in countries without a history of mask wearing. But reducing infections requires a complete package of behavioural change, and facemask wearing should not be seen as an end in itself. Universal or more frequent facemask wearing can be part of this package to prevent infections."