Reading in the news - Thu 9 Jul
09 July 2020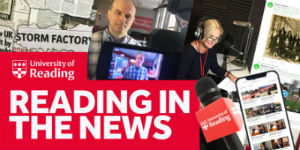 #WeAreTogether: Reading's work to help during the crisis
Reading alumnus Amy Wood (midwife at RBH) and Dr Al Edwards (Pharmacy) spoke to BBC Radio Berkshire about their work on Covid-19 as part of a series of interviews highlighting their contribution.
A Reading Chronicle article about changes to parking at RBH mentions that NHS staff are still allowed to park for free on the London Road campus.
COVID-19: expert comment on the coronavirus pandemic
Dr Simon Clarke (Biological Sciences) provides answers for BBC listeners on the restrictions around easing of lockdown measures.
Former Reading academic, Ben Neuman, is quoted in The Daily Mail for an article covering a study which has found that older black men are more likely to die from Covid-19.
Further coverage of comments by Prof Ian Jones (Biological Sciences) on how long Covid-19 antibodies lasts, in Science Alert and Medical Daily.
Poetry in lockdown: The Economist (£) has written a feature on how the poems of Kate Clanchy's (English Literature) students - published on her Twitter account - have captured the mood of lockdown.
Community nature reserve: The Reading Chronicle reports on the approval of an extension to Langley Mead, a popular nature reserve in Shinfield. Read our news story here.
Other coverage
The Breeze reports on the Weather Game launched by scientists (Meteorology) at the University. Read our news story.
Business News Wales covers the launch of a new research project to better understand the value of green mortgages and low energy homes. The articles quote Prof Sarah Sayce (Real Estate), who is involved in the project.
An article in The Express on the future of the state pension guarantee features comment from Prof Charles Sutcliffe (Henley). The article is also reproduced on USA Today Post and other news aggregation sites.
EG speaks to Jane Batchelor, a careers consultant at Henley Business School and two second-year students - Megha Sharma (BSc Investment and Finance) and Toby Swindells (BSc Real Estate) - to discuss the effect of the pandemic on those graduating in 2021.
A study by Dr Faith Orchard (Psychology) showing teenagers who experience poor sleep are more likely to experience poor mental health is covered by HCP Live.
Scottish Farmer reports on a webinar taking place in July on how improved protein nutrition can aid milk production in cows. Prof Chris Reynolds (Animal Sciences) will be giving a talk as part of the webinar.
Moja News has republished an article written for The Conversation by Dr Vicky Boult (Meteorology) about hundreds of elephants that have mysteriously died in Botswana.
Doctoral researcher, Xander Ryan, wrote a piece for Inside Time (print) about his experience of writing short courses to improve prison learners' study skills.
Prof Sarah Sayce (Real Estate) has written an article for Charity Times (print) about the impact of Covid-19 on charity property.