#WeAreTogether: At the chalk face – the Reading trainee teachers making a difference to children throughout COVID-19
14 July 2020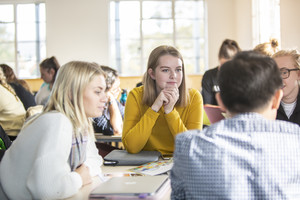 Trainee teachers at the University of Reading have been continuing to learn their profession during the Covid-19 lockdown.
While schools and settings in the UK have had to adapt at very short notice to changes due to the pandemic, training teachers based at the University's Institute of Education have been supported to continue their placements, either physically in school or working remotely with a named mentor and school or setting.
On the 20th March, the day that the UK entered a 'lockdown' period, the Institute of Education had over 370 training teachers in local schools and settings, working with children and young people from birth to 18 across Berkshire, North Hampshire and Surrey, and South Oxfordshire.
Dr Catherine Foley, Programme Director of Primary School Direct at the University of Reading's Institute of Education said:
"Unlike many providers, the University of Reading partnership made the decision that wherever possible, training teachers would continue with their placements. Since then, their contribution to keeping learning and wellbeing going for children has been phenomenal.
The vast majority of schools never closed their doors, so our trainees have been involved with teaching and learning throughout.
"Many of our primary trainees, for example, have continued to go into their schools and settings to teach vulnerable children and children of key workers. They have embraced the new challenges of teaching within a 'bubble', working with children of many different ages within the same group."
Amelia Dennis
Amelia is a training teacher on the Primary PGCE Programme following the SEND specialism, based at The Holy Brook School.
"In the last few weeks, I have contributed to the development of a new school curriculum, created online banks of resources to support teaching, as well as reassuring students as they cope with the struggle of returning to school during COVID-19. Even if this has meant playing more squares games and charades in class than usual!
"Returning to support The Holy Brook School and maintain the calm and positive environment that is crucial for students to feel safe as they return to school was never in question. Being able to continue my teacher training and develop professionally was just a bonus.
Primary school capacity
Trainee teachers have been able to support primary schools who have faced significant challenges as the highest number of year groups have seen a return to physical teaching.
Teachers have faced additional workloads to manage classroom lessons as well as home learning to ensure that the quality of education for children continuing to learn at home is not harmed, and having trainee teachers to take on responsibility for delivering classroom lessons has been a beneficial experience:
Jamaal Whight – Primary School Direct
"In the last few weeks at Katesgrove I have been doing a range of different activities to help. I have been coordinating with the family worker creating and delivering food and toiletry parcels to those in need. Alongside that I have been preparing home learning packs for children to be continuing to engage in some sort of school learning. I have regularly made welfare phone calls to possible vulnerable families, who often appreciate that 'checking in' and voice of support. Asking how they have been coping and finding out if there is any way in which the school can help and generally just a positive conversation with a familiar person goes a long way.
"Personally my favourite part has been delivering to the house, whereby sometimes (if I'm lucky) I get to see the children who I have worked with. The delight in their face to see someone familiar from the school is so rewarding. Parents/carers often enjoy a general conversation and appreciate the interest shown in their life. Not always easy, as understandably there are some tough conversations because families can be in some difficult situations during these testing times.
"Although not an ideal situation it's been fascinating to see how quickly the school has adapted to the needs of the children and so much thought and consideration has gone into ensuring all children still have some contact with school. We as teachers are always keen to help and support children in any way possible and these times are no different."
Secondary trainees have also made a huge contribution to the continuation of learning. Setting and marking work, conducting live lessons and making welfare calls, they have supported secondary schools with continuing to teach their pupils and ensuring that the learning needs of all pupils are catered for. Some have worked on educational enrichment projects, including working with charities such as Daisy's Dream and the Little Princess Trust.
Katharina Jakobi, Modern Foreign Languages (MFL) Secondary PGCE trainee
"During lockdown I very much enjoyed working together with the wonderful Easthampstead Park Community School MFL department. Besides working on knowledge organisers and schemes of work together I enjoyed working with year 12 on the German book "The Reader", modelling essay writing and checking students' essays.
"I was able to be as creative as I wanted to be with year 9 distance learning tasks about shopping and school and made videos of my old German school as well as German high-street shops to engage students. Besides creating resources and distance learning teaching, CPD offered by my school helped me to get ready for my NQT year as well as weekly zoom sessions with my mentor, ITTCo and Head of Department.
Early Years delivery
Young people in early years settings have also been supported by students from the Institute of Education. Trainees studying for Early Years Teacher Status have continued in paid employment in early years settings throughout, and have ensured that children in the earliest stages of development continue to have access to high-quality provision.
Jo Elsey – Head of Early Years
"Our EYTS trainees have been amazingly creative in ensuring that their key children and their families have had access to fun and exciting learning experiences. Several remained in daily contact with the children who were not attending the setting, carrying out activities online for families to access. This was in addition to the trainees working in their settings with children of key workers.
"One of our trainees sent a postcard to every child in the setting with photographs and messages from all the staff just to keep in touch until the children were able to return. Trainees have also been working with local primary schools to support the transition for those children beginning school in September."
Professor Cathy Tissot, Head of School at the Institute of Education said:
"Although this has been a training year like no other, the partnership with our local schools and settings has only been strengthened by the fact that we have all been in this together and we would like to thank all schools and settings for continuing to support our students. As one training year draws to a close, we look forward to starting again with a new batch of beginning teachers.
"I don't think any of us truly understood what the impact that COVID-19 would have on the education of our young people at the start of 2020, and it is amazing to see how our trainees have risen to these challenges. They have supported schools/settings and young people in new and exciting ways and we are very proud of the positive impact this has had on so many families."