Reading in the news - Thu 16 Jul
16 July 2020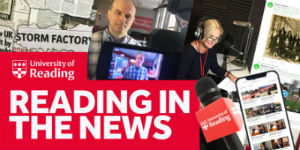 #WeAreTogether: Reading's work to help during the crisis
COVID-19: expert comment on the coronavirus pandemic
Comments by Dr Simon Clarke (Biological Sciences) about the use of face masks are in BBC Science Focus, Mail Online, The Mirror, Wales Online and other local media outlets.
Dr Al Edwards (Pharmacy) is quoted in this Telegraph article about vaccine development. The article is reproduced on Yahoo News UK.
Prof James Ferryman (Computer Science) is quoted in Passenger Terminal World (print) for a feature on how passenger health screening technology is helping make airports safe to travel in again.
Dr Rachel McCloy (Psychology) is also quoted in People Management in an article about face masks.
Flood Strategy: Further reporting of comments by Prof Hannah Cloke (GES) on the government's new Flood Strategy, in The Engineer. Read our full expert comment.
Other coverage
Dr James Reade (Economics) spoke to BBC Radio Berkshire about the current situation with China and how this may or may not impact football club ownership.
Computer Weekly covers the news that the University is using Nutanix Files to increase its virtual storage capacity. The news is also featured on multiple news aggregation sites.
Henley Business School Africa has become the first business school in Africa to be affiliated to the Latin American Council of Management Schools, report Skills Summit and Biz Community.
A Reading student writes about his summer internship with Didcot Railway Centre, as part of the Reading Internship Scheme, for The Wantage and Grove Herald (print).
Research by Lydia Messling, a doctoral student at Reading, is referenced in this Inside Science feature on scientists engaging with the public.