Animal research procedures - 2019 statistics at University of Reading released
16 July 2020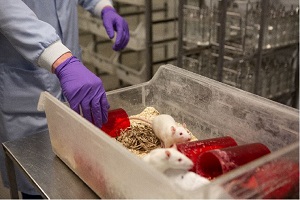 The number of animal research procedures carried out by the University of Reading in 2019 was the lowest recorded for 14 years, latest statistics show.
The University of Reading has reduced the numbers of research procedures to 1,870 (down from 2,546 in 2018) in its work investigating some of the biggest challenges to human health and our natural environment.
The reduction is of procedures is partly due to the planned move of the University's main animal laboratories to new, purpose-built facilities, and as scientists continue to find new ways to replace animal research with other methods, reduce the numbers of procedures needed to the minimum required for accurate science, and refine types of procedures to improve the welfare of the animals.
While absolute numbers of procedures have declined, the University has continued its world-class research into further our understanding of heart disease, learning about neurodegenerative diseases such as Alzheimer's, and how to reduce the environmental impacts of farming.
In 2020, the University has also continued animal research to help find new ways to treat Covid-19 through the use of llamas that produce special antibodies.
Read more about Fifi the llama helping scientists discover new treatments for Covid-19
Professor Parveen Yaqoob, Deputy Vice-Chancellor and joint Pro-Vice-Chancellor for Research and Innovation, said:
"We would like to see a world where no research using animals is necessary, but at the moment, animals play a critical role in our understanding of biological processes. Every new medicine available to doctors and patients today – from life-saving antibiotics, to insulin and new cancer drugs – has been created with the involvement of animal research. "At Reading, we continue to work hard to improve animal welfare. We have invested £60 million for a new Health and Life Sciences building, opening later this year, which will provide the best possible environment for the study of biological sciences, including animal research, so that the quality of research and animal welfare are maintained to the highest standards."
Find out more about the new Health and Life Sciences building here.
Latest statistics on procedures
The University latest statistics on animal research have been published ahead of the release of national Home Office figures showing how many licensed research procedures were carried out on animals in the UK in 2019. Strict UK legislation means that any research using animals that could cause suffering must be regulated and subject to inspection.
As well as details of all its current government-licensed animal research projects, the University has released comprehensive data on numbers and types of procedures it carries out on animals. It is also explaining how these experiments support important scientific research.
The University is a signatory to a UK concordat on openness on animal research and is committed to the principles of working to replace, reduce and refine procedures on animals. In 2019, it won an Openness Award from Understanding Animal Research for a campaign to explain llama research to the public, and was shortlisted for an award in 2018 for its animal research website.
Find out more about animal research at the University of Reading >>>