Reading in the news - Fri 17 Jul
17 July 2020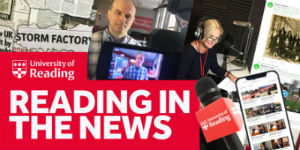 #WeAreTogether: Reading's work to help during the COVID-19 crisis
Dr Sakthi Vaiyapuri's (Pharmacy) study into blood type and susceptibility to COVID-19 is featured by CNN; the article is syndicated globally, including to 9 News, 7 News (Australia) and across US media such as Miami Herald, Mercury News, The State. MSN News runs a related feature.
COVID-19: expert comment on the coronavirus pandemic
Dr Simon Clarke (Biological Sciences) tells the Daily Mail that facemasks prevent the spread of droplets that spread infections, but more evidence on their effectiveness is needed. His comments are also used by the Press Association and across local UK media.
Dr Clarke spoke to TalkRadio breakfast show about measures to reduce a possible second wave of COVID-19.
Professor Dominic Swords (Henley Business School) spoke to BBC Oxford about how lockdown has changed shopping habits forever.
Animal research: The University carried out the lowest number of research procedures on animals in 2019 for 14 years. Understanding Animal Research highlighted Reading's work with llamas to find treatments for COVID-19, and provided links to Reading's latest statistics published on our animal research webpage. No mainstream media covered the story. Read our news story.
Other news:
Alumni news:
Fiji Times reports that Reading alumna Dr Eci Nabalarua has been appointed to a New Zealand university regulatory group.
PR Web features appointment of Henley Business School alumna Dr Georgette Zinaty as VP of Corporate Class.
Business Live (South Africa) features Henley MBA and Mortgage Market boss Tim Akinnusi