Reading in the news - Mon 20 Jul
20 July 2020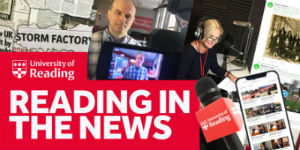 #WeAreTogether: Reading's work to help during the COVID-19 crisis
Smithsonian Magazine and Labmate Online further cover the use of Fifi the llama's antibodies to help understand how to neutralise the SARS-CoV-2 coronavirus.
Further coverage of Dr Sakthi Vaiyapuri's (Pharmacy) study into blood type and susceptibility to COVID-19 in the Zimbabwe Herald.
COVID-19: expert comment on the coronavirus pandemic
Dr Al Edwards (Pharmacy) is quoted in a Financial Times (also in print) article about T-cells and coronavirus immunity.
Dr Simon Clarke's (Biological Sciences) is quoted in the Daily Mail about some reasons why a homogenous approach to lockdown may have been less effective at protecting people in communities with larger percentages of minority ethnic households. Dr Clarke's comment that facemasks prevent the spread of droplets that spread infections, but more evidence on their effectiveness is needed, is quoted again in the Daily Mail, and in a separate article for Mail Online about cruise ships.
Prof Ian Jones (Biological Sciences) is quoted in a Telegraph piece on a study of a possible treatment for COVID-19 using a cholesterol-lowering drug.
Dr Jane Parker (Food) is quoted in an article for Business Insider and Science Alert about the link between COVID-19 and smell loss.
Dr Kleio Akrivou (Henley Business School) spoke to BBC Berkshire about the future of work as businesses start returning to offices post COVID-19 lockdown.
Robot farming: An announcement about new Innovate UK funding for a consortium including UoR to create the world's first automated farm, showcasing the benefits of robotic farming, in Farmers Weekly and Business Innovation Magazine. Dr David Rose (Agriculture) is quoted.
Other news:
Financial Times report on cuts that Universities are having to make, and includes a reference to comments by Vice Chancellor Prof Robert Van De Noort on worst case scenario job losses.
The Times (in print) report on the successful reintroduction of red kites 30 years ago. The article notes a UoR study on householders leaving meat scraps for the birds.
A repeat of BBC R4's The Third Degree which recorded at the University of Reading saw FTT, English and Law students take on their lecturers in a quiz.
Devex cover comments by Prof Rosa Freedman (Law) about sexual abuse in the aid sector, following an oral evidence session of the International Development Select Committee.
The Harris Gardens on Whiteknights Campus is mentioned in a roundup of the best picnic sites in Berkshire according to the Reading Chronicle.
Independent Community Pharmacist notes a new study looking at developing clinical treatments from fish oils at the University of Reading funded by the British Heart Foundation.