Reading in the news - Wed 22 Jul
22 July 2020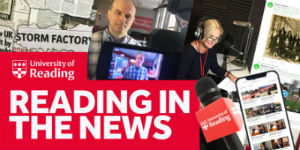 #WeAreTogether: Reading's work to help during the COVID-19 crisis.
News of Reading llama Fifi's contribution to COVID-19 treatments reported in China Daily. Read our news story
How Reading is fighting COVID-19 >>>
COVID-19: expert comment on the coronavirus pandemic
Dr Simon Clarke (Biological Sciences) commented on a pre-print study showing links between COVID-19 and cold winter weather for Heart Radio news bulletins; also quoted in The Times, BBC Science Focus, Daily Mail, The Sun, Yahoo News, The Independent, and multiple regional media.
Dr Clarke spoke to BBC Scotland and other regional stations on the prospects for a vaccine.
Dr Washika Haak-Saheem, (Henley Business School) tells People Management (in print) no to make assumptions about people's preferences for home working.
Other news:
Professor Chris Reynolds (Agriculture) will give a talk about dairy cows to Scottish farmers, reports British Dairying (in print) and local Scottish newspapers.
British Cinematographer (in print) highlights' plans for new film studios at Thames Valley Science Park.
NASDAQ and multiple US finance media report Reading alumnus Brent McGregor's appointment to the board of Dynavax.