Reading in the news - Tue 21 Jul
21 July 2020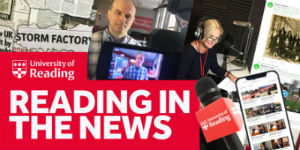 #WeAreTogether: Reading's work to help during the COVID-19 crisis
Interaksyon repost an article co-written by Dr Monika Parkinson (Psychology) for the Conversation about how to help someone you live with who has depression.
<!--[if !supportLists]-->

COVID-19: expert comment on the coronavirus pandemic
Comments by Prof Ian Jones (Biological Sciences) on a study showing that two vaccine trials have proven the treatment to be safe and trains the immune system appear in the Daily Mail, Bloomberg, Yahoo! News, and in more than one hundred local outlets including the Reading Chronicle via the Press Association.
Dr Simon Clarke's (Biological Sciences) spoke to Sky News (no link), Times Radio (approx. 35 mins in), TalkRADIO (and here) and BBC Scotland following the publication of a paper on two vaccine trials, and a trial of a treatment of an inhaler to reduce COVID-19 patients needing oxygen support.
Yahoo! News further cover the link between COVID-19 and smell loss, and quotes Dr Jane Parker (Food).
Chicken cancer fears: Prof Gunter Kuhnle (Food) appeared on BBC One's Food: Truth or Scare to discuss reports that white meat such as chicken was found to have the same compounds which are thought to be responsible for colorectal cancer. In the programme, Prof Kuhnle provided an explanation for the study and allayed fears that white meat should be avoided.
Other news:
RTE Ireland republish a Conversation article by Anne Lawrence-Mathers (History) about the medieval roots of modern weather forecasting.
A weather forecasting game launched by the UoR Department of Meteorology is covered in Wokingham Paper. Read our news story here.
BBC Radio 4's Farming Today reports on a study about Agroforestry and the positive impact of trees on pollination.
Further coverage of new Innovate UK funding for a consortium including UoR to create the world's first automated farm, showcasing the benefits of robotic farming, in Fresh Business Thinking, Business Link Forum, and East Mids Business Link,
An interview for BBC Radio Kent about research into women and their role in the miners strikes in 1984/5. The interviewee, Dr Florence Sutcliffe-Braithwaite notes her work with Dr Natalie Thomlinson (History).
The Financial Times report on cuts that Universities are having to make which includes a reference to comments by Vice Chancellor Prof Robert Van De Noort on worst case scenario job losses appears in the print edition.
A planned archaeological exploration on Alderney is discussed on BBC Radio Guernsey, and the organiser mentions that they hope to get UoR's Archaeology department to help but due to the COVID-19 lockdown they weren't able to plan something for the summer.
Shropshire Star report on a webinars run by the British Grassland Society, and note that a future webinar on grass leys will include a speaker from UoR.
Plans for further student accommodation in Reading on Silver Street is reported by GetReading.
Student Times cover comments by Henley Business School careers consultant Graham Philpott about graduates entering the job market.
An article by Lawrence Hill-Cawthorne (Law) about a UN Human Rights Council's urgent debate on racism in US law enforcement is published in the blog for the European Journal of International Law.
<!--[if !supportLists]-->