Reading in the news - Thu 23 Jul
23 July 2020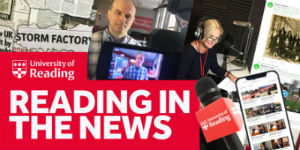 #WeAreTogether: Reading's work to help during the COVID-19 crisis
News of Reading llama Fifi's contribution to COVID-19 treatments reported in The Reading Chronicle (print). Read our news story
A mention of the University's free parking for RBH staff scheme is mentioned on BBC Radio Berkshire.
COVID-19: expert comment on the coronavirus pandemic
Dr Simon Clarke (Biomedical Sciences) was interviewed on France24 on the global race for a Covid-19 vaccine; also on MSN. He also spoke to BBC Radio 2's Jeremy Vine Show and Heart Berkshire about the potential for a winter spike in cases. The Express featured comments from Dr Clarke on the same topic, and the article is reproduced on multiple national and international outlets. Dr Clarke is also quoted in MailOnline on cold temperatures, Trade Van Driver (print) on smartphone cleanliness and Blackpool Gazette (print) on face masks.
Workplace Insight quotes Graham Philpott (Henley Business School) on job prospects for the graduates of 2020.
Prof Ian Jones (Biomedical Sciences) is quoted in The Scotsman (print) on a new study which says it is impossible to know whether more people contract the virus in hot or cold weather.
Former Reading academic, Ben Neuman, is quoted in this IB Times article on the possibility of zombies becoming a reality.
Gender equality: Professor Parveen Yaqoob, Deputy-Vice Chancellor of the University of Reading, has been announced as the first chair of a new Athena Swan expert committee which will oversee transformation of the charter for gender equality in Higher Education, reports Advance HE. Prof Yaqoob has also written a blog post for Advance HE on leading change by example. Read our news story.
Young poet: 4 year Nadim Shamma-Sourgen, son of Dr Yasmine Shamma (English Literature), has landed a book deal for his poetry, reports The Guardian (print also). He was discovered by Kate Clanchy (also English Lit.), whose social media posts of his poems attracted national media attention. The Guardian article is reproduced on MSN and Yahoo News.
Other news:
Dr Mark Dallas (Pharmacology) has written a piece for The Conversation on the ten factors linked to increased risk of Alzheimer's disease.
Prof. Chuks Okereke (Georgraphy) has done a video, posted on Enviro News Nigeria, on how we can avoid a climate crisis.
Prof Alina Tryfonidou (Law) is quoted is this Wired article on how Russian money poured in the UK.
The Wokingham Paper (print) reports on the University's decision to postpone this year's graduation ceremonies until next year.
The Wokingham Paper (print) features a follow up article on the University's Weather Game, saying that only one of almost 300 players was able to accurately predict the amount of rainfall in Reading over the weekend. Read our news story.
An article on the Institute of Directors website on board evaluation references research from Henley Business School.
Archinect reports on a recent study about post-occupancy evaluation, citing the Social Value Toolkit for Architecture, which was recently launched by RIBA and the University of Reading, to help the profession understand the social impacts of design.
An obituary for sociologist Malcolm Brynin in Times Higher Education mentions that he studied for a Master's at Reading in 1977.
Jon Foster-Pedley (Dean of Henley Business School) has written an article for Business Live South Africa on how higher education in the country needs to change.
South African site Yiba reports on a new course for entrepreneurs and small businesses Henley Business School South Africa will be offering from this September, in conjunction with business incubator Raizcorp.