Reading in the news - Fri 24 Jul
24 July 2020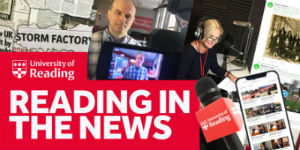 Data breach: BBC News, Times, Telegraph, Mail Online, Yahoo! News, Tech Times, Times of India and others cover news that a cyberattack on a US firm that provides database software for charities and universities including the University of Reading. Further information and a statement from University Secretary Dr Richard Messer is available here.
COVID-19: expert comment on the coronavirus pandemic
Dr Simon Clarke (Biological Sciences) is quoted in the Metro (and in print) and the Independent about face masks, following the revised laws around their compulsory use.
Prof Ian Jones (Biological Sciences) is quoted in MedScape about the influence of warmer weather on the spread of Covid-19.
Pharmacy attainment gap: Pharmaceutical Journal report on attainment gap between White and BAME students on MPharm courses at UK universities. A University of Reading spokesperson is quoted about work to reduce the attainment gap.
Other news:
Mauritius Times repost an article by Dr Mark Dallas (Pharmacy) for The Conversation on the ten factors linked to increased risk of Alzheimer's disease.
An article for Research Professional (£) about news stories over the past academic year mentions the review into game shooting UoR carried out.

Estates Gazette report on big topics for the industry, and cites a UoR report about a code for leasing business premises.

PhD researcher Akshay Deoras (Met) is quoted in the Hindustan Times about weather alerts in Mumbai.

Meg Cathcart-James, a PhD researcher (Ecology) and project officer for the Cole Museum spoke to BBC Berkshire about building aquatic habitats in a garden.

BBC Radio Norfolk mentions a story involving mashed potato and the summer of 1976, and includes a note about archive records on instant mashed potato packets held at the UoR Special Collections.