Reading in the news - Thu 30 Jul
30 July 2020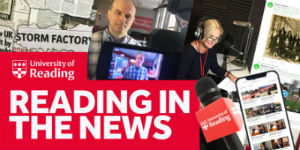 COVID-19: expert comment on the coronavirus outbreak
BBC News and Yahoo! News quotes Professor Mark Pagel (Biological Sciences) about the origins of the virus.
Professor Ian Jones (Biological Sciences) is quoted in The Times about the effectiveness of different measures to control Covid-19; in The Week and Politico's Playbook news roundup on quarantine times for travellers imposed by the government and spoke to LBC News about the plans.
Dr Simon Clarke (Biological Sciences) spoke to a number of BBC local radio stations including Three Counties, Shropshire and Newcastle about the possibility of a second wave of infections, and BBC Radio London and BBC Hereford and Worcester about a possible move to extend self-isolation days for anyone with symptoms from seven to 10.
Stonehenge: New research has revealed that the large stones that make up Stonehenge were sourced from local woods in Wiltshire. Gizmodo, Independent, Scientific American, and scores of local papers including the Reading Chronicle note UoR's involvement in the research. PhD researcher Katy Whitaker who was involved in the study spoke to BBC Radio Wiltshire, and BBC Somerset and Heart Berkshire also cover. Read our news story here.
Other coverage
Architects Journal announce their 2020 student prize nominees, including a University of Reading PG student Will Pike.

The Guardian (in print) carry an obituary for Physics alumni Eric Solomon who created several widely enjoyed board and puzzle games.

Science Magazine report on ancient bones which are beginning to rot in disturbed peat bogs, and quotes Professor Martin Bell (Archaeology).
Dr Laura Baker (Met) is quoted in a Science Magazine article about new research on weather forecasting and the effect of missed winds.
Research by Professor Giles Harrison and Keri Nicoll (Met) about clouds is reported in Physics Today.
Dr Mark Shanahan (Politics and IR) is quoted in Sputnik News online about whether the Republican party are prepared to distance themselves from US President over poor polling numbers.
Spanish publication Cadenaser note that Berta Ferrer will be presenting at a design conference on the design of books.
Market Screener report on the Royal Bank of Canada announcing new sustainability-focused partnerships including a charity Thames21 that works with UoR to educate on caring for natural water sources.