Reading in the news - Fri 31 Jul
31 July 2020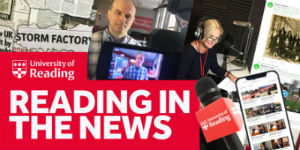 COVID-19: expert comment on the coronavirus outbreak
Professor Ian Jones (Biological Sciences) is quoted in NewsWeek about a study on children and the spread of the coronavirus; in The National UAE on a candidate vaccine developed in Russia,
Dr Simon Clarke (Biological Sciences) spoke to talkRADIO, LBC Radio, Heart Radio London about the extension of the quarantine time for travellers and those with COVID symptoms, and to BBC Radio 5 Live, talkRADIO and a number of BBC regional radio stations about the tightening of lockdown measures in parts of northern England.
CGTN further quotes Professor Mark Pagel (Biological Sciences) about the origins of the virus.
A paper by Professor Uma Kambhampati (Economics) about women political leaders handling the pandemic better than male peers is reported in London Economic.
#WeAreTogether: how Reading is helping in the pandemic
Viral Stories publish an article about the role of the International Cocoa Quarantine Centre who are continuing to run a quarantine to protect the future of chocolate. Read our news story here.
V.I.C., a student from UoR who has just finished his degree in Economics and Finance is featured in a Mashable India article about his freestyle rap about the pandemic.
Climate report: Prof Hannah Cloke (GES and Met) is quoted on articles on BBC News online and The Week about a new Met Office report about the effect that climate change is having on UK weather.
Stonehenge: Further coverage of new research which revealed that the large stones that make up Stonehenge were sourced from local woods in Wiltshire, in Archaeology News Network, the Yorkshire Post and other local UK titles, and Gizmodo Spain. Reading doctoral researcher Katy Whitaker (Archaeology) spoke to BBC Radio 5 Live about new research she was part of which has traced the origin of Stonehenge's huge sarsen stones.
Other coverage
The Conversation publish an article by Dr Yasmine Shamma (English Literature) about her research in refugee camps, where gardening is being used as a pastime by the refugees there. Yahoo! News have republished the article.
Professor Bryan Cheyette (English Literature) also writes for the Conversation about rapper Wiley who was banned from Twitter for anti-Semitic posts.
Architects Journal post an opinion piece on the low levels of evaluation of building occupants by architects and cites a RIBA and UoR toolkit on the social value of buildings.
The awarding of funding to UoR by EIT Food is reported by Food Packer and Processor International.