Reading in the news - Mon 1 Jun
01 June 2020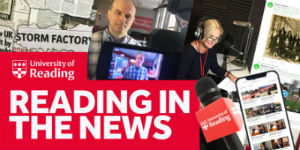 #WeAreTogether: Reading's work to help during the crisis
Further coverage of the University's llama herd, and their role in helping find antibodies that could help treat COVID-19. Prof Gary Stephens (Pharmacy) spoke to BBC Berkshire and BBC South Today; and Prof Stephens' Conversation article was republished by The Print. Read our news story >
BBC South mention UoR in a roundup of different ways universities in the region are planning to reopen campuses to students in the Autumn term.
An online course helping young people to manage low mood and depression during the pandemic is mentioned by BBC Berkshire.
<!--[if !supportLists]-->

COVID-19: expert comment on the coronavirus pandemic

Sunshine: Sunday Times reports on record-breaking sunshine for the UK, as the UoR weather observatory has recorded more sunshine hours in May than any previous month since their records began.

Other news:
Sunday Times' Funday Times explores the work of poet and lecturer Kate Clanchy (English Literature), and looks at the experience of Dr Yasmine Shamma (English Lit) who used Clanchy's exercises to help her son write poems.
Further coverage of research about the link between cold war nuclear testing and increased rainfall is reported in The Week (print).
Deusche Welle report on the German football league and their games being played without spectators, and mentions research by Drs James Reade and Carl Singleton (Economics) on the effect of closed door games.
Further coverage of the discovery of an auroch horn in the Severn Estuary on BBC News online and The Sun (in print). Professor Martin Bell (Archaeology) is mentioned.
Euronews looks at the environmental benefits of a four day working week.
PhD researcher Akshay Deoaras (Met) is quoted in the Hindustan Times about a tropical cyclone that may hit the Indian state of Maharashtra in June, the first time in more than 100 years.
BBC Radio 2 mentions the virtual Rome tour developed by Dr Mathew Nichols (Classics).
<!--[if !supportLists]-->