'Barbecue spring' ends with record dry and sunny May
01 June 2020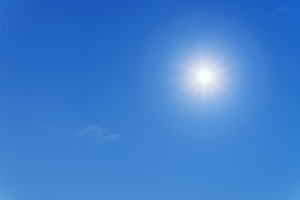 Prolonged dry and sunny weather means May 2020 has broken more weather records, with Reading (and likely many other parts of the UK) sunnier than an average May in Seville, Malaga or Madrid.
Spring 2020 became the sunniest since sunshine records began in 1956 at the Reading Atmospheric Observatory, with 11 days to spare. Almost unbroken sunshine since then means May was not the sunniest May in Reading's records by far, but was the sunniest ever month in Reading.
May 2020 recorded a total of 345.1 hours of sunshine in Reading – an average of 11.13 hours of sunshine per day – beating June 1975, when there were 305.6 hours of sunshine (average 10.19 per day).
It was also the driest month in Reading in 120 years of record-keeping, with just 1mm of rain falling. The previous record low was 3.1mm in May 1990. Also remarkable is that all of the May 2020 rain in Reading fell on one day – 1 May – meaning it is now a month since any rainfall was recorded there.
The proportion of possible sunny daylight hours for May 2020 in Reading was 71.3%, beating the previous record of 62.2% seen in the famous August 1976.
Stephen Burt, research fellow at the University of Reading's Department of Meteorology, said: "This weather, and these records, are extraordinary. May's sunshine levels are far ahead of any previous month on record at Reading, and would rival the normal sunniest spots in the Mediterranean – many of which this year have been rather wet and dull by comparison.
"While Reading is only one station in the Met Office network, the weather here is reflective of the broader pattern of extremely dry, sunny weather we've seen across southern England.
"Added to the fine March and April, and with many people confined to their homes, this has truly been a barbecue spring, for those lucky enough to have their own garden.

"Our sunshine this month has been well above May's normal sunshine for the likes of Seville, Malaga and Madrid. Just as well as we can't go abroad for sunshine anyway."
Driest run of May days for 120 years
May in Reading – and across other parts of England – has also been incredibly dry.
With no rain forecast for several days, it's likely that in Reading, the current record-breaking stretch of 27 days without a drop of rain – the longest ever recorded in May since rainfall records began in 1901 – will be extended even further. With only 1mm of rain, all falling on 1 May, it is likely to be the driest May in 120 years, and the equal fifth driest of any month.
Professor Hannah Cloke, hydrologist at the University of Reading, said 2020 was proving to a remarkable year of seasonal contrasts.
"After being battered by winter storms and floods, the stark change in weather this spring has taken us from one extreme to another," she said.
"River levels have dropped, fish are being rescued from dried up streams, and gardeners and farmers are spending hours watering thirsty plants.
"We are not yet resilient enough as a country to extreme weather events and we need to do better at looking after our water. One of the most important things we can do is make sure that when rain does fall, we have healthy soil in our fields that is able to soak it up and pass it to our groundwater stores, instead of running off too quickly into streams, taking our precious soil with it."