Reading in the news - Tue 2 Jun
02 June 2020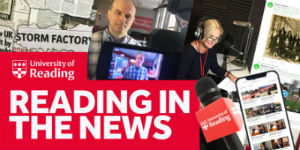 #WeAreTogether: Reading's work to help during the crisis
Further coverage of the University's llama herd, and their role in helping find antibodies that could help treat COVID-19. Prof Gary Stephens (Pharmacy) spoke to BBC 5 Live. Read our news story
A series of 3D models of the protein building blocks of the coronavirus have been produced by Dr Liam McGuffin (Biological Sciences). Medicalxpress cover the new models. Read our news story.
Reading Chronicle report on donations to the Royal Berkshire Hospital from a local business. The quote from RBH mentions support from UoR.
<!--[if !supportLists]-->

COVID-19: expert comment on the coronavirus pandemic
Dr Simon Clarke (Biological Sciences) is quoted in the Telegraph about socially distanced BBQs, and spoke to LBC and TalkRADIO.
Newsweek quotes Prof Bhismadev Chakrabarti (Psychology) about a study looking at whether Covid-19 has a greater impact on people with intellectual and developmental disabilities.
Further coverage of a Conversation article by Prof Helen Dodd (Psychology) about the social and wellbeing importance of children playing with their friends, in Children and Young People Now (in print).
<!--[if !supportLists]-->

Migrant rights: Dr Ruvi Ziegler (Law) writes to the Times about the legal protection for migrants. Dr Ziegler also appears in a podcast for Africa Freedom Month about refugee rights and Covid-19.

Other news:
Further coverage of record breaking spring sunshine, in the Telegraph. Stephen Burt (Met) is quoted.
History Extra sees Dr Rebecca Rist (History) answer questions about the crusades.
Dr Daphne Halikiopoulou (Politics and IR) is quoted in an article for Modern Diplomacy about populism and Pakistan.,
Wokingham Paper reports on comments by a Shinfield councillor about road schemes including those near to the Thames Valley Science Park.
<!--[if !supportLists]-->