Reading in the news - Wed 3 Jun
03 June 2020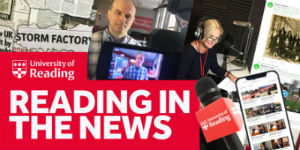 #WeAreTogether: Reading's work to help during the crisis
<!--[if !supportLists]-->- <!--[endif]-->The Reading Chronicle and School Search report on protective face visors created by Safer Vision, a partnership involving the University of Reading and several local schools.
<!--[if !supportLists]-->- <!--[endif]-->Children and Young People Now republish an article for The Conversation co-written by Professor Helen Dodd (Psychology) on the importance of play in helping children transition back to school.
COVID-19: expert comment on the coronavirus pandemic
<!--[if !supportLists]-->- <!--[endif]-->Dr Simon Clarke (Biological Sciences) is quoted in Liputan in Indonesia, Your Business Mag, Cleaning Matters and Fleet Transport on mobile phone hygiene.
Sun and storms: Bloomberg quotes Professor Hannah Cloke (Meteorology and GES) on May being the driest month in 124 years in the UK. Read our news story. Professor Cloke is also quoted by Inside Climate News on a predicted increase in intense rainfall in future due to climate change, and an article written by her about how improved forecasts and early warning systems helped save lives when Cyclone Amphan hit south Asia is published by The Conversation.
Bronze Age horn: Professor Martin Bell (Archaeology) is quoted by Mail Online and New York Post on a horn belonging to an extinct species of cattle that lived 5,000 years ago being found in the River Severn Estuary.
Other coverage:
<!--[if !supportLists]-->· <!--[endif]-->Kurier in Austria quote from The Conversation article written by Dr James Reade and Dr Carl Singleton (Economics) on how playing football matches in empty stadiums influences results.
<!--[if !supportLists]-->· <!--[endif]-->An article written for The Conversation by Dr Luke Bell (Agriculture) on how genetics influence the benefits of and our preferences in rocket lettuce is republished by the National Interest.
<!--[if !supportLists]-->· <!--[endif]-->PhD student Akshay Deoras (Meteorology) is quoted by Times of India and Hindustan Times on Cyclone Nisarga approaching Mumbai.
<!--[if !supportLists]-->· <!--[endif]-->The Times publishes a letter by Dr Ruvi Ziegler (School of Law) on the rights of asylum seekers.
<!--[if !supportLists]-->· <!--[endif]-->OilChange and About Manchester report on a recent study led by Dr Talia Tamarin (Meteorology) suggesting future summers in the northern hemisphere will experience more temperature variations. Read our news story.
<!--[if !supportLists]-->· <!--[endif]-->The President of the Reading University Jewish society is quoted in a Jewish Chronicle article on the thoughts of British Jews on the extension of Israeli sovereignty.