#WeAreTogether: Help scientists improve COVID-19 home tests
03 June 2020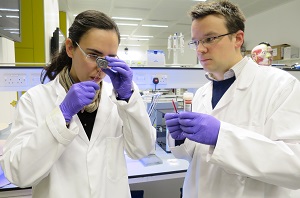 Members of the public are being asked to support a University of Reading-wide research project to make sure that home antibody testing for COVID-19 will give accurate results.
The new project, Improving COVID-19 testing, is led by biomedical technology researcher Dr Al Edwards with support from University of Reading experts in virology and communication design. The team will examine how individuals follow instructions on home tests, similar to the kind used to test for COVID-19 antibodies, and how changing the types of instructions may lead to more accurate results.
The University is now asking people to support the research, either by volunteering to take part in the trials, or by generously donating towards the costs of funding the work.
Watch a video explaining more about the project here
Dr Edwards, an Associate Professor in the Reading School of Pharmacy, said:
"The University of Reading has put its skills and resources into action to help tackle the coronavirus crisis. Now we need your help to do even more.
"There is a pressing need to develop COVID-19 antibody tests that can be conducted at home. Having home tests avoids the need for a medically-trained person to take samples, freeing up healthcare workers to do other vital work, and preventing them from coming into contact with potentially infected people. Equally important is for tests to be easy for anyone to access, ideally without having to visit a hospital or test centre.
"The UK government is committed to supporting home testing for COVID-19 antibodies. But because COVID-19 is new, there are currently no safe and approved protocols in place for home testing. It is absolutely vital that any test is accurate and safe, and that people know exactly what they need to do to produce a reliable result."
Communicating health
As part of the project, experts in healthcare communication will be working to ensure that information on how to take the test is presented in the most appropriate and helpful way. Work will explore how video tutorials or live video consultations may usefully influence the accuracy of tests.
Professor Sue Walker, from the Department of Typography & Graphic Communication at the University of Reading, said:
"We have a long track record of advising on the communication of healthcare messages and we are proud to be able to help this project at a critical time in the pandemic.
"Home antibody testing could provide an important part of our way out of this crisis, but we need to give people confidence that the tests can be administered properly at home. Providing clear information set out for anyone to be able to follow is paramount."
Different ways to get involved
Members of the public who are keen to get involved can support the research through a variety of ways.
The research team is asking for vital contributions to help fund experimental 3D-printed testing materials, redesigned instructions, and video resources. Volunteers in the trials will be able to take part as participants in the studies, including by taking surveys and helping to understand how home tests are followed.
Donate or volunteer now, or find out more about Improving Covid-19 testing:
https://sites.reading.ac.uk/imagine/project/improving-covid19-testing/
The University of Reading community is united to tackle COVID-19 #WeAreTogether
What we're doing >> https://www.reading.ac.uk/news-and-events/releases/PR839637.aspx
Support our work >> [https://sites.reading.ac.uk/imagine/project/improving-covid19-testing/