Reading in the news - Thu 4 Jun
04 June 2020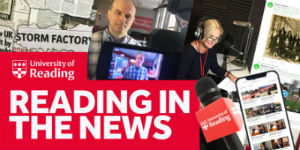 #WeAreTogether: Reading's work to help during the crisis
BBC Berkshire and The Breeze FM covers a new project run by Dr Al Edwards (Pharmacy) to improve the accuracy of home testing. Read more about the work here.
The announcement of plans to reopen the campus to students for the Autumn term with a blend of online and in person teaching and learning is covered by GetReading.
Reading.co.uk cover this year's Art Degree shows which are being displayed in students' homes due to the pandemic. Read our news story about the show here.
BBC Berkshire mention that the MERL are providing materials to help with homeschooling.
COVID-19: expert comment on the coronavirus pandemic
Dr Simon Clarke (Biological Sciences) is quoted on the BBC News website and spoke to BBC Radio One Newsbeat about a plan to run music festivals including Reading Festival; in CNBC about immunity passports; in an article for the BMJ about the two metre physical distancing; and in iNews about disinfecting smartphones.
Prof Ian Jones (Biological Sciences) is quoted in the Daily Mail about a study suggesting that airborne transmission of the coronavirus is more likely than on surfaces.
Dr Sandrine Claus (Food) is quoted in an article for the Independent about prebiotics and probiotics.
Finances: Vice Chancellor Robert Van De Noort spoke to BBC Berkshire about significant financial pressures that the University faces due to Covid-19.
Other coverage:
The Tab reports on fines used by UoR to punish racist behaviour from students.
Times of India cover Cyclone Nisarga that has hit the East coast of India. The article quotes Akshay Deoras (Met).
A UoR student is mentioned in an article about pro-Israeli activists, in Jewish News.