Reading in the news - Mon 8 Jun
08 June 2020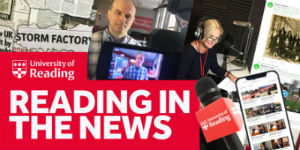 COVID-19: expert comment on the coronavirus pandemic
<!--[if !supportLists]-->- <!--[endif]-->Dr Parastou Donyai (Pharmacy) is quoted by Reuters, CBC, AOL, Indian Express and Yahoo News on trials of the drug hydroxychloroquine to treat COVID-19 being halted in the UK.
<!--[if !supportLists]-->- <!--[endif]-->Dr Simon Clarke (Biological Sciences) is interviewed on Sky News about regional infection rates, BBC South and quoted in the Sun on the Government's mask-wearing guidance, Daily Mail on the accuracy of tests, and in aponet.de on safe distancing to prevent spread of infection.
#WeAreTogether: Reading's work to help during the crisis
<!--[if !supportLists]-->- <!--[endif]-->Dr Louise Johnson (Ecology and Evolutionary Biology) is one of more than 100 UK signatories on an open letter, reported by Times Higher Education, warning that easing lockdown will lead to a second peak in COVID-19 infections.
<!--[if !supportLists]-->- <!--[endif]-->Professor Andrew Kakabadse (Henley Business School) writes for University World News on the challenges of holding training and discussions seminars online.
#LockdownClimateChange: how COVID-19 changes show a greener future
<!--[if !supportLists]-->- <!--[endif]-->The Telegraph quotes Professor Keith Shine (Meteorology) on how greener behaviour people have been forced to adopt during lockdown present an opportunity to make permanent changes.
Financial recovery: BBC South interviewed Vice Chancellor Professor Robert Van de Noort on the financial savings the University needs to make due to the pandemic. More information can be found on the Staff Portal.
Other coverage
Daily Star mentions Archaeology research at the University of Reading in a story on a horn belonging to an extinct species of cattle that lived 5,000 years ago being found in the River Severn Estuary.
The suspension of rat tail testing by the University's Vertebrate Pests Unit due to the coronavirus pandemic is mentioned by Pest Magazine.
Legit.ng carries an interview with Abimbola Johnson, the first person to graduate with a first class law degree from Reading's School of Law.
A Conversation piece written by Dr Luke Bell (Agriculture) on how genetics influences whether we like the taste of rocket lettuce, and how good it is for us, is republished by Inverse.
PhD student Akshay Deoras (Meteorology) is quoted by the Hindustan Times on monsoon conditions predicted for Mumbai.
The University's statement and review announcement in response to Black Lives Matter protests is mentioned on BBC Radio Berkshire.