Renewable energy space technology initiative for Saint Lucia
08 June 2020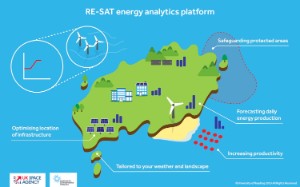 Saint Lucia and the UK-based Institute for Environmental Analytics have formed a new partnership to support the island's transition from fossil fuels to renewable energy.
Work is underway after a successful online workshop and virtual meetings with the Ministry of Infrastructure, Ports, Energy and Labour and other stakeholders, took place in May to launch the RE-SAT programme. The innovative renewable energy analytics platform will be produced in partnership with the Government of Saint Lucia and tailored to Saint Lucia's needs.
This partnership has been made possible by investment from the UK Space Agency's International Partnership Programme (IPP) and reflects Saint Lucia's position at the forefront of promoting clean growth.
RE-SAT fuses satellite and in-situ weather data with advanced analytics to provide highly detailed renewable energy information. Saint Lucia's Nationally Determined Contributions, under the Paris Agreement sets a target of 35% renewable energy generation by 2025 and 50% by 2030. RE-SAT will provide support through:
Data analysis for investment in the most appropriate and cost-effective renewable energy projects
Development of best scenarios for maximum efficiency of proposed projects
Assessment of proposals from technical and financial and economic angles received by the Government of Saint Lucia
Support for the National Utilities Regulatory Commission (NURC) and the Government of Saint Lucia in capacity building
Watch the 'Introduction to RE-SAT' video >>>
The Institute for Environmental Analytics (IEA) held virtual meetings with the Ministry of Infrastructure, the Department of Physical Planning, NURC, Saint Lucia Meteorological Service, the Department of Sustainable Development and the Organisation of East Caribbean States, and held a workshop for stakeholders from 11-15 May to begin preparations to deploy the software in Saint Lucia. RE-SAT will be tailored to the country's needs and the partnership will build the capacity of stakeholders to support its implementation, combining the IEA's data science expertise with in-country knowledge and skills.
Colin McKinnon, CEO of the IEA, said: "Despite the travel restrictions imposed by the Covid-19 pandemic, we are able to work closely with Saint Lucia, providing the quality of data needed to develop a sound business case to switch to renewable sources to a far greater extent. Understanding minuteby-minute variability is a key question as it affects the requirement for reserve energy generation. However, long periods of historic observations are often not available from existing data sources.
"With our world-leading skills in data analytics we have used Earth observation data to construct a synthetic weather model for Saint Lucia to improve both the planning of renewable investment and the management of reserve capacity.
"As RE-SAT is funded by the UK Space Agency's International Partnership Programme, the project runs as a true partnership, using the knowledge and expertise of our partners in Saint Lucia. It is not a one-off consultancy exercise by a third party."
Terrence Gilliard, Chief Energy Science and Technology Officer, Ministry of Infrastructure, Ports, Energy and Labour said: "We are very grateful for the support of the IEA towards Saint Lucia's transition to a sustainable energy future. Undoubtedly, our goals of achieving energy independence, decreased or stable energy prices while ensuring system reliability require thorough technical, financial and economic assessments of our available RE options. RE-SAT therefore presents an excellent opportunity to build capacity for more evidence-based decision making where this is concerned."
Graham Turnock, Chief Executive of the UK Space Agency, said: "We're proud to support Saint Lucia in their transition from fossil fuels to renewable energy, which will deliver greater self-sufficiency while reducing global carbon emissions to combat climate change."
Saint Lucia is one of six small island developing states (SIDS) to benefit from £3.8m investment from the UK Space Agency IPP in RE-SAT. The others are: Mauritius, Montserrat, Palau, Tonga and Vanuatu. Work is now under way in all the island states.
Find out more about RE-SAT at https://www.re-sat.com