University sets carbon reduction example, as residents urged to have their say
09 June 2020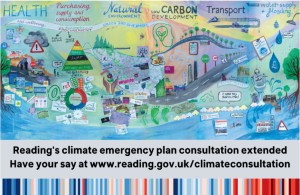 Carbon reduction expertise from the University of Reading has been lent to ambitious plans to make Reading net carbon zero by 2030.
The University has submitted its institutional response to the Reading Climate Change Partnership (RCCP) climate strategy consultation. It offers a number of suggestions based on the experience of its Sustainability team in making its campuses more environmentally friendly in recent years.
The partnership, which involves experts from the University along with representatives from Reading Borough Council, local businesses, and the community and voluntary sector among others, is calling on more people to have their say on the strategy. The deadline for submissions has been extended to 28 June 2020.
Have your say on the strategy here >>>
Professor Tim Dixon, who co-chairs the RCCP with Tracey Rawling Church, of CSR Guru consultancy, said: "This is your chance to help shape Reading's plans to play a leading role in creating a sustainable and positive future for everyone.
"Climate change is a major problem for the whole world, not just Reading, but local action to reduce our carbon footprints will be a key part of the jigsaw to reduce its damaging impacts in the years to come.
"At the University we are proud to be playing our part through our own ambitious carbon reduction actions and contributing our expertise to this strategy. We look forward to working with partners to make a positive difference to the borough, and the planet."
Among the comments made by the University of Reading on the proposed strategy were that encouraging walking, cycling and using public transport was important to reduce the number of car journeys. This includes providing services in public transport 'black spots' in the area, such as a number identified around the University's campuses, and increasing bus services.
The submission stated that strong advice services, including energy surveys and opening environmentally friendly homes for people to visit and learn from, would help change behaviour and attitudes throughout the borough.
It also urged prioritising efforts to generate energy from low-carbon sources, due to the high costs involved in reducing energy use through action like retrofitting buildings with improved insulation and solar panels. Making financial support available for the latter was also emphasised as important.
Carbon reduction on campus
Many of these comments were informed by first-hand experience the University of Reading has of reducing its own carbon footprint. Since 2016, the University has achieved a carbon reduction of more than 40%, and is on course to surpass its target of a 45% reduction by July 2021.
This was achieved through initiatives such as increasing the number of solar panels on its campuses fivefold to more than 1,500, extending its low-pollution heating system to more buildings, recycling and reusing items like furniture and computer equipment, and reducing car journeys made by staff and students.
#LockdownClimateChange
The University is contributing to the global discussion about climate action through its world class research and proactive institutional action.
The recently-launched #LockdownClimateChange campaign seeks to encourage people to think about action they have taken during the COVID-19 lockdown that they could continue with when restrictions are eased. This could include driving less, flexible working, shopping online and less frequently, wasting less food and being more flexible in their energy use.
Virtual event
The University is contributing to a virtual event on Thursday 11 June, to ask the Police and Crime Commissioner and other key institutions to pledge to reduce carbon emissions. The Citizens UK Thames Valley Assembly will also talk about the challenges faced by Covid-19 and recognise the experiences of frontline and statutory bodies during the pandemic.
The event marks the beginning of a new Thames Valley Citizens alliance, which will bring together community leaders from civil society institutions to create positive change in the region.
The event will be live streamed here https://www.youtube.com/channel/UCDsJd0dC2qPAbHDptFOyNUg