Reading in the news - Wed 10 Jun
10 June 2020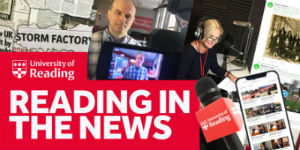 COVID-19: expert comment on the coronavirus pandemic
Dr Simon Clarke (Biological Sciences) is quoted by Independent (and reposted by Yahoo! News) on schools reopening,
Further coverage of research by Dr James Reade and Dr Carl Singleton (Economics) on home field advantage in football games played behind closed doors due to Covid-19, in ESPN and Business Insider. BBC Sport also have updated articles using Reade and Singleton's modelling for League One and Two which ended early on Tuesday 9 June.
Read a comment from Dr Catherine Foley (Education) on school reopening here.
#WeAreTogether: Reading's work to help during the crisis
ITV Meridian mentions that UoR has outlined plans for welcoming students back onto campus for the Autumn term.
Renewables:
Daily Mail reports on the UK going two months without generating any coal power, and notes a UoR report that May has seen record sunshine hours. Read our news story about the record-breaking May sunshine here.
Other coverage
Dr Tara Pirie (Biological Sciences) is quoted in CNN World on the threatened Siberian tiger.
An article published in HR Zone looks at ways that the workplace has improved for LGBT+ employees, and notes that the Stonewall Leadership Programme was launched in conjunction with Henley Business School and Harvard University in 2005.
Hindustan Times reports on a flood warning system that may be put in place for Mumbai, and quotes PhD researcher Akshay Deoras (Met).
Further coverage of comments by Professor Giles Harrison (Meteorology) on the Earth's double electric heartbeat, in News18.
Prof Eleanor Dickey (Classics) spoke to BBC Berkshire about the appeal of the ancient romans.
London Live air a repeat of a BBC Horizon episode which visited the Food and Nutritional Sciences department.