Reading in the news - Tue 9 Jun
09 June 2020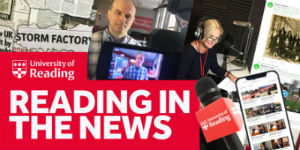 COVID-19: expert comment on the coronavirus pandemic
Professor James Ferryman (Computer Science) is quoted by BBC Online News on the use of thermal imaging cameras to detect signs of COVID-19 infection.
Dr Simon Clarke (Biological Sciences) is quoted by MSN News on face masks; NLC on staying safe on public transport; Tap Newswire on immunity passports; and MKFM on anti-5G protests planned in Milton Keynes.
MSN News, Deadline News and the Daily Record report on research by Dr James Reade and Dr Carl Singleton (Economics) into how home advantage is affected by playing football matches behind closed doors, as will happen when the Premier League season resumes.
Dr Dyan Sellayah (Biological Sciences) is quoted by Yahoo News on different rates of infections among people of different ethnicities.
Professor Brian Scott-Quinn (Henley Business School) was interviewed on BBC Radio Berkshire about how oil companies are being affected by the pandemic.
<!--[if !supportLists]-->

#WeAreTogether: Reading's work to help during the crisis
Candy Mag reports on a student who decided to take 69 online courses to stay productive during lockdown, including Reading's course on helping young people cope with anxiety. Read our news story.
Black Lives Matter:
Deputy Vice Chancellor Professor Parveen Yaqoob explained to BBC Radio Berkshire the report into equality at the University. Read more about the report here.
BBC News Online and the Dundee Messenger reports on unknown British black history, including research by Professor Hella Eckhart (Archaeology) that shows there were black people in Britain as early as the Roman times. Read our news story.
A Twitter thread by Professor Kate Williams (History) on problems around removing statues dedicated to people involved in the slave trade is mentioned in a Euro News article and on LBC Radio, after protestors tore one down in Bristol. CNN also interviewed Professor Williams on the Colston statue. Read the full thread.
Other coverage
The Independent republishes an article written for The Conversation by Dr Luke Bell (Agriculture) on how genetics affects whether you like the taste of rocket lettuce and how good it is for you.
Art students spoke to BBC Radio Berkshire about their final degree show, which is online due to the lockdown. Read our news story.
The Wire Science quotes Professor Giles Harrison (Meteorology) in an article on the Earth's double electric heartbeat.
Dr Tara Pirie (Biological Sciences) is quoted by and on the news websites of many US radio stations on the threatened Siberian tiger.
SME Web quotes Naeema Pasha (Henley Business School) on a report on post-lockdown working life.
Dezeen mentions the Urban Room structure built by Reading Architecture students in an article about outdoor classroom designs for teaching after lockdown.
<!--[if !supportLists]-->