Reading in the news - Thu 11 Jun
11 June 2020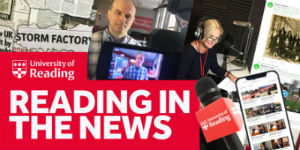 COVID-19: expert comment on the coronavirus pandemic
Solar space storms: Widespread coverage of a new study looking at the speed of coronal mass ejections, and the benefits for satellites and astronauts, in the Daily Mail, Phys.org, Science Daily, and Info Wars. Prof Mathew Owens (Met) is quoted. Read our news story here.
Rankings: Coverage of the QS World University Rankings for 2021 in local papers including the Scotsman lists the UK institutions ranked including UoR which was 205th overall and 27th in the UK.
Other coverage
Coverage of a new study looking at animals most at risk of being killed on roads in Europe, in Phys.org, Bioengineer.org, and 7th Space.
talkSport discussed a UoR study led by Prof Adrian Bell (ICMA) and Dr James Reade (Economics) asking members of the public to log football player heights.
An article about making ice cream in Farmers Weekly includes a case study of a farmer who took the ice cream manufacturing course run by FNS.
Security World Market report on the initiative to protect ancient Syrian artefacts. Read our news story about the work here.
An article for the Markfield Herald (in print) about a film about ladybird books, and the footage will be stored at the national archive based in UoR's special collections.
A repeat of Truth about… takeaways was aired on BBC One, and included Prof Gunter Kuhnle (Food)
London Live air a repeat of a BBC Horizon episode which visited the Food and Nutritional Sciences department.