#WeAreTogether: charity needs being matched with student volunteering
12 June 2020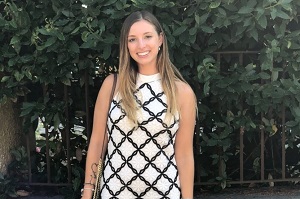 Local charities whose services are being affected by lockdown are getting help from University of Reading students.
More than 50 students have begun helping local charity needs through a matchmaking scheme run by the University. The scheme is supporting eight charities so far with individuals who have skills in certain areas such as social media management or translation to help with additional need due to the pandemic.
One volunteer, Jenny Putnam (pictured), has begun working with local women's charity Alana House run by Parents and Children Together (PACT). Jenny has been supporting the charity with some of the communications challenges the charity is experiencing as face to face support has had to stop during lockdown.
Jenny, a third year student in Animal Science at the University of Reading said:
"I've been helping with some ideas about ways to engage with the women more. They have struggled to get many of the women to engage with the zoom calls and so I've been advising on other ways to try and connect with a wider audience too.
"I understand how difficult this situation has been for people, especially those who are in more trying situations and I wanted to do whatever I can to help out people who may be facing an extra struggle on top of what is already going on."
Laura Rogan, a senior support worker at Alana House said:
"The materials that Jenny has sent over have been really helpful and informative, and work well with what we are trying to achieve with our clients during lockdown. Jenny has been keen and flexible to adapt what materials she sends to meet the needs of our cohort of clients. I'm looking forward to working with Jenny to develop this work further."
Sarah Gardner, Community Relations Manager at the University of Reading who is helping to oversee the scheme said:
"We developed this scheme as a result of conversations with local community organisations who are struggling to adapt to changes due to the coronavirus. The scheme matches community organisations to student volunteers who then provide technical and digital skills and help with other vital tasks such as translation and logistics.
"The great thing about the scheme is that it is remote, so everyone can be safe, and it is a tailored scheme so we can make sure organisations are getting the right help from our student volunteers."
If you run a charity and would benefit from students providing remote assistance, please contact Sarah at the link below.
Read more about the student volunteering scheme at:
https://www.reading.ac.uk/about/working-with-the-community/yuor-community-champions.aspx
The University of Reading community is united to tackle COVID-19 #WeAreTogether
What we're doing >>
Support our work >>