Reading in the news - Mon 15 Jun
15 June 2020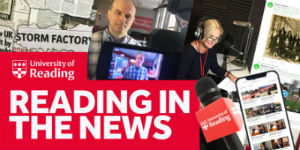 COVID-19: expert comment on the coronavirus pandemic
<!--[if !supportLists]-->- <!--[endif]-->Dr Simon Clarke (Biological Sciences) provides explanation of the coronavirus figures to BBC West Midlands; on easing of lockdown measure to LBC; on the difference between 1m and 2m for social distancing to BBC Scotland; and on reports on a second wave of COVID-19 in China to Sky News. Dr Clarke is quoted in the Mail on Sunday on immunity; Yahoo News on face masks; UK Tech on mobile phone hygiene; and Medscape on whether summer will slow or stop the spread of the virus.
<!--[if !supportLists]-->- <!--[endif]-->Professor Helen Dodd (Psychology) is quoted by ITV online on the reopening of schools.
#WeAreTogether: Reading's work to help during the crisis
<!--[if !supportLists]-->- <!--[endif]-->Alice Nield (Food and Nutritional Sciences / National Centre for Biotechnology Education) provides BBC Berkshire's lunchtime lesson on food experiments.
<!--[if !supportLists]-->- <!--[endif]-->Wokingham Today reports that a collaboration between the University and Reading Borough Council will see online literature and arts activities provided to children as part of the Reading Children's Festival.
<!--[if !supportLists]-->- <!--[endif]-->A letter to Wokingham Today by Steve McManus, CEO of Royal Berkshire NHS Foundation Trust, praises the support of the community during the COVID-19 pandemic, including work by the University to produce face masks and support clinicians. Read other ways the University is helping during the pandemic.
Home advantage: With the return of Premier League football days away, the Observer, Irish Times and Yahoo News report on research by Dr James Reade and Dr Carl Singleton (both Economics) on how playing matches behind closed doors affected results.
Novichok drama: As a TV drama is set to air on the Novichok poisonings in Salisbury two years ago, Evening Standard, Yahoo News and MSN News republish its explainer on what the nerve agent is, quoting Professor Gary Stephens (Pharmacy).
Weather 'blocking' events: Professor Len Shaffrey (Meteorology) is quoted by Carbon Brief on blocking events and the jet stream.
Other coverage
The Reading Chronicle reports the involvement of University staff and students in the local Black Lives Matter demonstrations.
The Press (York) features research led by Professor Hella Eckhart (Archaeology) into how diverse Roman civilisation was.
Letters are published in the Times respectively calling for colonial history to be taught in schools (co-signed by Will Bailey-Watson and Rachel Roberts – IoE), and for recognition that delaying the return to school for some children is impacting their mental health (co-signed by Professor Helen Dodd – Psychology).
Space Daily reports on research by Professor Mathew Owens (Meteorology) into predicting the impact of solar storms. Read our news story.
Archaeology News Network reports on research contributed to by Dr Manuela Gonzalez-Suarez (Biological Sciences) on the impact of roadkill on wildlife. Read our news story.
PhD student Akshay Deoras (Meteorology) is quoted in the Hindustan Times and Indian Express on the arrival of the monsoon in Mumbai.
Scottish Housing News mentions research by the University into house prices in an article on calls for reforms to the development system.
The Portsmouth News reports Reading's placement in the QS World University Rankings, along with other universities in the region.
The University's ice cream manufacturing course is mentioned in a Farmers Weekly article on making and selling ice cream.