Reading in the news - Fri 12 Jun
12 June 2020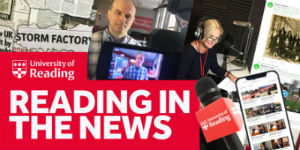 COVID-19: expert comment on the coronavirus pandemic
<!--[if !supportLists]-->- <!--[endif]-->Prof Ian Jones (Biological Sciences) is quoted in a Daily Mail article about the impact of lifting lockdown restrictions.
<!--[if !supportLists]-->- <!--[endif]-->Further coverage of comments by Dr Dyan Sellayah (Biological Sciences) about possible reasons for obesity's impact on Covid-19 severity appear in an MSN News article on a study on the topic.
<!--[if !supportLists]-->- <!--[endif]-->Dr Simon Clarke (Biological Sciences) is further quoted in International Business Times about summer and Covid-19 spread. Dr Clarke discussed the new 'social bubble' guidelines on BBC Radio 5 Live; Talk Radio about the test and trace app; and Heart Radio Berkshire about whether lockdown started early enough in the UK.
<!--[if !supportLists]-->- <!--[endif]-->Medicalxpress report on a new study about the mental health impact of lockdown on younger children. Prof Helen Dodd (Psychology) is quoted.
Covid-19 and research: Times Higher Education have published an article written by Henley Business School academics on the challenges facing academic research due to Covid-19.
Roadkill: Further coverage of a paper looking at animals killed on the road in Europe, in print editions of The Sun, The Daily Telegraph, The Mirror and the Daily Express. Dr Manuela Gonzalez-Suarez (Biological Sciences) is quoted.
Other coverage
Dr Geoff Sloan (Politics and IR) writes for the Foreign Policy Research Institute on geopolitics post-Brexit.
Reading Chronicle (in print) report on a statement made by Vice-Chancellor Prof Robert Van De Noort about racism and racial injustice.
An obituary published in the Church Times celebrates the life of the Revd Derek Bastide who studied to become a teacher at UoR.
Farmers Guardian spoke to a UoR Agriculture graduate about the need to protect UK beef farming.
Dr Tara Pirie (Biological Sciences) was part of a lockdown Coffee Club segment on BBC Radio Berkshire, talking about spotting wildlife.
Hindustan Times cover a monsoon that has hit the Indian west coast. PhD researcher Akshay Deoras (Met) is quoted.