Reading in the news - Wed 17 Jun
17 June 2020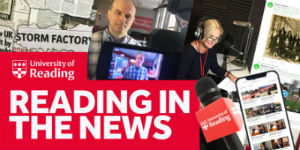 COVID-19: expert comment on the coronavirus pandemic
Professor Ian Jones (Biological Sciences) is quoted in the Daily Mail about the damage that Covid-19 does to lungs, and the Express about the link between Covid-19 and loss of biodiversity.
Dr Simon Clarke (Biological Sciences) spoke to Sky News, LBC, Heart, and the Breeze following the announcement that a steroid, dexamethasone, can be used to improve mortality; and BBC South Today answering questions about Covid-19.
#WeAreTogether: Reading's work to help during the crisis
A new online platform for arts and culture has been launched by Reading UK Culture Live in partnership with UoR and the council, reports Supanet.
Football's coming back: The Times and the South China Morning Post report on research from Drs James Reade and Carl Singleton (Economics) about home advantage being lost in games played in empty stadiums.
Win-win for bees: Phys.org and Bioengineer report on research about the benefits to pollinators of having trees in a farming estate.
Other coverage
The Jewish Chronicle have run a comment about taking down statues, and quotes Dr Jacqui Turner (History) about the statue of Nancy Astor.
Kompas.com report on comments by Prof Helen Dodd (Psychology) about the impact of lockdown on child wellbeing.
PhD student Akshay Deoras (Meteorology) is quoted by the Hindustan Times on the monsoon in India.
BBC Three Counties spoke to Dr Charmi Patel (Henley Business School) about monitoring staff at home.
An article for the Leasing Broker Federation about electric vehicles cites data from CEH and UoR about pollution levels falling due to lockdown.