Reading in the news - Mon 22 Jun
22 June 2020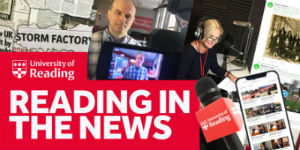 #WeAreTogether: Reading's work to help during the crisis
<!--[if !supportLists]-->- <!--[endif]-->Dr Al Edwards (Pharmacy) answered listener questions about the coronavirus on BBC Radio Berkshire.
<!--[if !supportLists]-->- <!--[endif]-->Professor Helen Bilton (IoE) spoke to BBC Radio Berkshire about how teachers and children will cope with schools reopening.
COVID-19: expert comment on the coronavirus pandemic
<!--[if !supportLists]-->- <!--[endif]-->Dr Simon Clarke (Biological Sciences) spoke to Sky News about an outbreak of the virus in a food production factory, and was subsequently quoted on other commercial radio stations; Talk Radio about the government reducing the national threat level; LBC Radio about case numbers in Germany; the Irish Mail on Sunday about immunity; and Mobile News about the importance of mobile phone hygiene.
<!--[if !supportLists]-->- <!--[endif]-->Dr Sakthi Vaiyapuri (Pharmacy) is quoted by the Huffington Post, Yahoo News and Technology Networks on how genetics and blood types can affect how susceptible you are to getting COVID-19.
<!--[if !supportLists]-->- <!--[endif]-->Dr Miriam Marra (Henley Business School) is quoted by BBC Afrique about how working hours might change as a result of the virus.
#LockdownClimateChange: how COVID-19 changes show a greener future
<!--[if !supportLists]-->- <!--[endif]-->Dr Nicolas Bellouin (Meteorology) is quoted by the Guardian, MSN News, Yahoo News and Newscabal about how lockdown has created an opportunity to study another environmental impact – noise pollution.
Reading terror attack: The Independent, MSN News and Yahoo News quote Will Bailey-Watson (IoE) paying tribute to Wokingham teacher James Furlong, who was involved in history education teaching at the University.
Extra-terrestrial life: The New York Times reference research by Dr David Ferreira (Meteorology) on the possibility of life on other planets.
Other coverage