Reading in the news - Wed 24 Jun
24 June 2020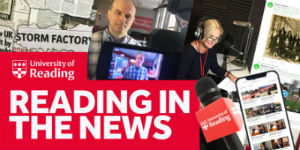 COVID-19: expert comment on the coronavirus pandemic
Dr Simon Clarke (Biological Sciences) was interviewed on Sky News and BBC Radio Berkshire about the relaxation of lockdown rules and is quoted in The Times (print also), Daily Mail and Daily Star saying that the cold conditions in meat factories can add to the transmission risk. He is also quoted in The Independent on the use of facemasks - the article also appears on MSN UK.
Prof Ian Jones (Biological Sciences) is quoted in Waking Times in an article about wearing facemasks to stop the spread of COVID-19.
Dr Sakthi Vaiyapuri (Pharmacology) is quoted in Huffington Post Canada and Huffington Post Australia on how people with different blood types react differently to COVID-19.
Dr Jane Parker's (Food) article about why some people lose their sense of smell appears on the French Conversation.
Saharan dust: Dr Claire Ryder (Met) is quoted in this CNN Online article on why the current Saharan dust episode is causing the worst dust storm in the Caribbean for decades. The article also appears across several US state radio websites.
Other coverage