Reading in the news - Thu 25 Jun
25 June 2020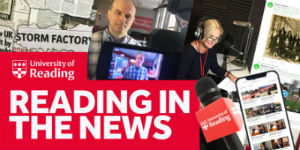 COVID-19: expert comment on the coronavirus pandemic
Dr Simon Clarke (Biological Sciences) was interviewed on talkRadio following the announcement that lockdown restrictions are to ease from 4th July. He is also quoted in The Telegraph on BBQs and social distancing; The Sun on the coronavirus black market blood trade; The Daily Mail and The US Posts (and again) on the increased risk for infection in meat packing factories; and in ZDNet on phone hygiene.
Business Insider features comments from Dr Jane Parker's (Food) Conversation article about why some people lose their sense of smell. The article also appears on the Singapore, Australian and Dutch versions of the site. Dr Parker's Conversation article is now also available in Indonesian.
The BMJ yesterday published a report casting doubt on the UK Government's antibody testing strategy. Dr Al Edwards (Pharmacy) is quoted. Medical Xpress covers the report.
Record UV levels: Dr Michaela Hegglin (Met) spoke to The Telegraph (print also) about how a number of different factors will mean that UV levels are unusually high in the UK today. Prof Keith Shine (Met) explained in the same article that the lack of contrails from aeroplanes is also a factor. Dr Hegglin is also quoted in the Daily Mail, The Guardian, The Independent, Sky News Online, The Sun, The Evening Standard, The Express, ITV News Online and local media outlets across the UK, including The Reading Chronicle.
Leading in a crisis: Prof Benjamin Laker (Henley) has written an article for Forbes on how business leaders can thrive after the COVID-19 crisis. In the article he cites how Dr Adeyinka Adewale (Henley) ran a series of virtual training sessions to 300 private school leaders and teachers across Nigeria in April, to help them change the landscape of education both during and after the pandemic.
Other coverage
Dr Claire Ryder (Met) is quoted in USA Today Post and other US state websites on why the current Saharan dust episode is causing the worst dust storm in the Caribbean for decades.
Prof Bill Collins (Met) is quoted in New Scientist on why clouds may explain why climate models are predicting a warmer future.
Dow Jones Professional features research from ICMA looking at how news reports affect lottery-type stocks.
FE News and The Yorkshire Post (print) report on a partnership between software-developer, Panintelligence, and the University to maximise student academic performance by giving students and staff better access to performance data.
New research on barriers that farmers face in engaging with a government consultation on the new Environmental Land Management scheme is reported in Shropshire Star (print). Read our news story here.
Business Biscuit features a story about a current economics student who has launched a property magazine and website for Swindon with the help of her father and sister.
The Student Room has run a story on how school pupils can prepare for starting university this September, despite school closures. The article includes tips from second-year modern languages student, Jennifer.
A study by Dr Faith Orchard (Psychology) showing teenagers who experience poor sleep are more likely to experience poor mental health is featured in Sleep Review Online.
Prof Parastou Donyai (Pharmacy) co-authored an article for Pharmacy Business (print) on how community pharmacies have responded to the COVID-19 pandemic.
PhD student John Keogh has co-written a piece for Food Safety Magazine on avoiding disruption in future food chains.
Phys.org reports on a new study into how climate predictions can benefit from the use of statistical mechanics. Prof Valerio Lucarini (Maths) is involved in the study and is quoted within the article.