Reading in the news - Fri 26 Jun
26 June 2020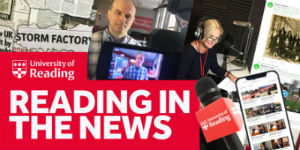 COVID-19: expert comment on the coronavirus pandemic
Dr Al Edwards (Pharmacy) spoke to ABC News Australia about the development of vaccines against Covid-19; and a quote appearing in the BMJ on antibody testing appears in the Sun, Mail Online and Yahoo! Finance.
Prof Ian Jones (Biological Sciences) is quoted in a Mail Online article about a study which says that strokes and neurological disorders have been seen in a number of Covid-19 patients.
Financial Times report on how lockdown has led more London residents to look at suburban living, and quotes Prof Michael Ball (Henley Business School).
Record UV levels: Further coverage of comments by Dr Michaela Hegglin (Met) after high UV levels seen across the UK on the hottest day of the year, in Metro, Mail Online, the Sun, LBC, ITV, Mirror, and local titles including the Brighton Argus and GetReading. Dr Hegglin is also quoted in a guide to UV levels in the Telegraph and spoke to LBC radio.
SmartWater: Prof Roger Matthews (Archaeology) spoke to ABC News Australia about work to protect cultural heritage from being sold on the black market. Read more about the work here.
Other coverage
Further coverage of comments by Dr Claire Ryder (Met) in an updated article for CNN Weather and other US local news on why the current Saharan dust episode is causing the worst dust storm in the Caribbean for decades.
IFST report that PhD researcher Imogen Allen (Food) has won their science communication competition with an article on whether insects are the future of food.

Alice Nield (NCBE and Food) spoke on BBC Berkshire's Lunchtime Lesson with another food science experiment involving rainbow volcanoes.

Reading.co.uk cover a new report saying that Reading is in the top 20 tech 'cities' of the future, and notes the UoR's new Thames Valley AI Hub.