Reading in the news - Mon 29 Jun
29 June 2020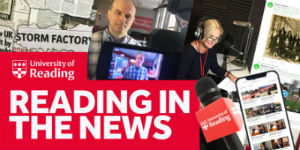 #ReadingTogether: Widespread coverage of the weekend's online vigil to mark a week since the Forbury Gardens attack. Vice-Chancellor Professor Robert Van De Noort attended on behalf of the University community and colleagues provided support across a range of activities. See together.reading.gov.uk for more.
COVID-19: expert comment on the coronavirus pandemic
<!--[if !supportLists]-->- <!--[endif]-->Dr Simon Clarke (Biological Sciences) is quoted in the Independent and Yahoo News about the slow start to the UK's COVID-19 testing programme.
<!--[if !supportLists]-->- <!--[endif]-->Professor Ian Jones (Biological Sciences) is quoted by Mail Online about how the COVID-19 virus attacks human cells.
<!--[if !supportLists]-->- <!--[endif]-->Inverse republishes an article co-written for The Conversation by Dr Jane Parker (Food and Nutritional Sciences) about why people lose their sense of smell when they get COVID-19.
Music culture: A project looking at the link between culture and music through submitted photos, led Professor Matt Worley (History), features in the Mirror.
Property preferences: Professor Michael Ball (Henley Business School) is quoted by the Financial Times on Londoners looking to live outside the city.
Other coverage
Prof Andrew Charlton-Perez (Meteorology) spoke to BBC Berkshire about the new weather forecasting game being launched this week by the Department of Meteorology.
Professor Adrian Palmer (Henley Business School) is quoted by the Mirror, the Express, Yahoo News, Exec Review and several regional news websites, including Wales Online and Surrey Live on the shopping centre owner Intu going into administration
Farmers Weekly publishes a letter by David Rose (Agri-Economics) on the future Environmental Land Management scheme.
Dr Michaela Hegglin (Meteorology) is quoted by Mail Online about the hot weather and high UV levels last week.
Sputnik News quotes Dr Mark Shanahan (Politics & International Relations) on the US presidential race.
This is the West Country and South West Farmer mentions research by the University into different feeds changing growth rates in calves.
Swindon Advertiser reports on two students, including one at Reading (Economics) who have set up a property magazine and website.
Beijing Kids reports on the University's online course teaching cognitive behavioural therapy.