Awards for scientists advancing weather forecasting, climate science and aviation safety
29 June 2020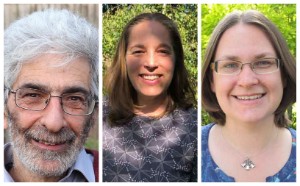 Three scientists whose work at the University of Reading is improving our ability to forecast weather, understand the impact of greenhouse gases on climate, and make flying safer and more economic during volcanic ash eruptions, have received prestigious awards.
Professor Keith Shine, Dr Helen Dacre and Dr Joanne Waller were among 18 winners in the Royal Meteorological Society (RMetS) Awards and Prizes 2019.
The RMetS awards recognise exceptional contributions to weather and climate research. RMetS is the leading independent organisation in weather and climate, and celebrates its 170th anniversary this year.
Professor Shine, Regius Professor of Meteorology and Climate Science at Reading, was awarded the Mason Gold Medal for his contribution to fundamental understanding of the climate system. It is one of the two most high-profile RMetS prizes, awarded to a Fellow of the Society on alternate years.
The renowned climate scientist's ground-breaking climate change research has seen him work closely with the Intergovernmental Panel on Climate Change (IPCC) on its Scientific Assessments, and was acknowledged for his contributions that led to IPCC receiving the 2007 Nobel Peace Prize.
Professor Shine is a world-leading expert in assessing the relative impacts on atmospheric heating of different greenhouse gases and on the impact of climate change on aviation, and also works to communicate climate science to the public.
Professor Shine said: "I am delighted to receive the 2019 Mason Gold Medal. Early in my career, the Antarctic ozone hole was discovered. It was a concerning, puzzling, exciting few years; playing some small part in unravelling the mystery was an important formative experience, as was involvement in subsequent national and international ozone assessments. My involvement in early assessments of the Intergovernmental Panel on Climate Change set a lasting direction of travel for my research and teaching.
"So many colleagues and students at Reading and beyond have played a major role in the scientific journey that has led to this award. Thank you."
Dr Dacre, Associate Professor of Dynamical Meteorology at Reading, received the FitzRoy Prize for her leading research on volcanic ash clouds and their risk to aviation. This includes working with leading authorities and businesses from around the world, such as the Civil Aviation Authority and Rolls-Royce.
The research has improved forecasts of how volcanic ash clouds will spread and their impact on aeroplane engines, which was poorly understood following large eruptions such as in Iceland in 2010, which grounded thousands of flights. She has also led work on making this information accessible to the aviation professionals who need to use it.
Dr Dacre has also more recently expanded her forecasting research into establishing the impact of COVID-19 restrictions on air quality.
Dr Dacre said: "I'm very honoured to receive the Royal Meteorological Society's Fitzroy Prize. While this is a personal award, the achievements recognised are the result of a decade of work performed with many colleagues, researchers and students at the University of Reading.
"Very quickly after the eruption of the Eyjafjallajökull volcano in 2010 it became clear that the impact on the aviation industry would be extensive and any advances would require an interdisciplinary approach.
"Personally, I would like to thank my amazing colleagues in the Meteorology Department at the University of Reading. I'm lucky to be in the company of people every day who inspire me, challenge me and who have helped me to realize the potential of meteorology to make a difference."
Dr Joanne Waller was jointly awarded the L F Richardson Prize for her innovative research into better understanding uncertainties in weather forecasting methods, and how doing so can improve weather predictions.
Her work studying forecasting uncertainties was carried out while she was a postdoctoral researcher at the University of Reading. She now works for the Met Office group based at the University of Reading.
Dr Waller said: "I am delighted and honoured to receive the L F Richardson Prize for my paper 'Theoretical insight into diagnosing observation error correlations using observation‐minus‐background and observation‐minus‐analysis statistics'. Thank you fellow authors and Royal Meteorological Society."
Phil Newton, Research Dean for Environment at the University of Reading, said: "That University of Reading research has landed three of the 10 Royal Meteorological Society annual prizes – including the most prestigious award – is a tremendous achievement, and speaks volumes for the excellence of our meteorological research and the impact it is having."
For more information on the RMetS prizes, visit www.rmets.org/news/2019-awards-and-prize-winners-announced