Reading in the news - Tue 30 Jun
30 June 2020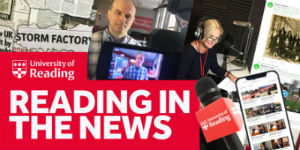 COVID-19: expert comment on the coronavirus pandemic
Dr Simon Clarke (Biological Sciences) spoke to ITV News at Ten and Good Morning Britain, and is quoted in the Mail Online following a localised spike in cases of Covid-19 in Leicester. Dr Clarke also spoke to BBC Ulster, and is quoted in the Daily Mail about whether Covid-19 spreads more easily in meat and food factories.
#LockdownClimateChange: how COVID-19 changes show a greener future
Articles for the Conversation look at aspects of the fight against climate change. Prof Jacopo Torriti (CME) and colleagues write about renewable energy and how to understand supply and demand during lockdown; and Profs Adrian Bell and Chris Brooks (ICMA) look at the issue of divestment and shareholder activism.
Fuel Oil News reports on the investment in sustainable alternatives to diesel, and cites a report by UoR and CEH on CO2 emissions during lockdown.
Leadership in a crisis: City AM's Daily Podcast interviewed Campbell Macpherson (Henley Business School) about business change and how to lead during times of disruption.
Other coverage
BBC Berkshire and BBC Shropshire spoke to a smell-loss patient Chrissy about research by Dr Jane Parker (Food) into disordered smell.
Prof Andrew Charlton-Perez (Met) was interviewed by BBC Berkshire about a new weather forecasting game launched by the Department.
The Institute of Directors have launched a centre for Corporate Governance, and Prof Andrew Kakabadse (Henley Business School) is on the advisory board.
Express report on how to get rid of rats from a property and notes a study from UoR on rat rodenticide.
An article for the Liverpool Echo looking back at confectionary factories in the city includes a picture of the Huntley and Palmer factory held in UoR's Special Collections.
MBA.co.za report that Henley Business School Africa have seen record applications for their MBA course.