Reading in the news - Mon 2 Mar
02 March 2020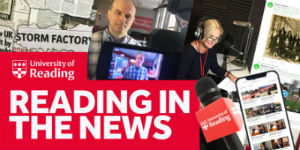 COVID-19: Further interviews with Dr Simon Clarke (Biological Sciences) on the latest developments in the coronavirus outbreak, on Sky News and Al Jazeera. Dr Clarke is also quoted by Yahoo News Australia, and Prof Ian Jones (Biological Sciences) is also quoted in an article for Euronews.
In addition, an opinion piece in the BMJ by Dr Hong Yang (Geography and Environmental Sciences) looks at COVID-19 spread in prisons and ways to fight further outbreaks.
Flooding: Prof Hannah Cloke (GES and Meteorology) appeared on Channel 4 News to discuss flooding and climate change, and was interviewed for BBC Radio 4.
Prof Cloke also penned an article for the Conversation on the ongoing flooding in the UK and how homes can be better protected, which is reposted on iNews.
Mubarak: Dr Dina Rezk (History) was interviewed for BBC Radio 4's Last Word about the life of Hosni Mubarak, former President of Egypt.
Other coverage
Times Higher Education have run a post written by UoR Institute of Education academics about helping students to understand assessment criteria.
Prof Martin Bell (Archaology) appears on BBC One's Countryfile (approx. 20 mins in) to talk about understanding the history of the Gwent levels.
BBC One's Big Questions discussed fighting for women's rights, with Prof Rosa Freedman (Law) on the panel.
An article for the Daily Mail reviews BBC One's Truth about Takeaways which featured Prof Gunter Kuhnle (Food).
Yahoo! Style cover the topic of musical earworms and cites UoR research that chewing gum may help to get rid of them.
Real Estate and Planning academics write for Land Journal about the variability in development returns across the sector.
Construction News further report on discussions to use space at the Thames Valley Science Park to create a film studio complex.
Dr James Reade (Economics) spoke to BBC Radio Berkshire about fairtrade fortnight.
Urdu Point report on Anosmia Awareness day and note research being carried out by Dr Jane Parker (Food) with charity AbScent.
Research about the cardiovascular benefits of eating two apples a day is reported in Sainsbury's Magazine.
The Breeze FM report that a former UoR student is volunteering in the Himalayas to help isolated Gurkha communities.