Reading in the news - Tue 3 Mar
03 March 2020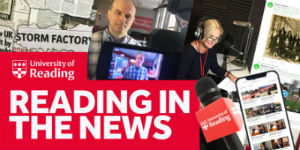 COVID-19:
Dr Simon Clarke (Biological Sciences) was interviewed on Daily Mail, Independent.ng, LBC Radio, TRT World, BBC South Today and Heart Radio Berkshire.
Dr Al Edwards (Pharmacy) also spoke to BBC Radio Berkshire about the challenge of developing a vaccine.
Populist parties: The Guardian reports on the publication of the PopuList, which involved Dr Daphne Halikiopoulou (Politics and International Relations).
Body hair: BBC Radio 4 interviewed Professor Karin Lesnik-Oberstein (English Literature) about perceptions of female body hair.
Brexit negotiations: Professor Rajneesh Narula (Henley Business School) joined CGTN in the studio to discuss the latest on the UK-EU trade talks.
Diverse leaders: Professor Ben Laker (Henley Business School) writes in Forbes about the importance of diversity in leadership, and quotes Professor Claire Collins.
Other coverage
The Mirror reports on Reading research into the link between multilingualism and brain function.
The Yorkshire Post reports on a new exhibition at the National Coal Mining Museum for England on the role played by women in coal mining, which uses Reading research.
The Swindon Advertiser reports on an episode of BBC talk show The Big Questions, where Professor Rosa Freedman (School of Law) was a panellist.
BBC Radio Ulster interviewed Dr Mark Shanahan (Politics and International Relations) about the US election.
Dr Kleio Akrivou (Henley Business School) spoke to BBC Radio Berkshire (40 mins in) about how many UK workers regularly do unpaid overtime, giving their employers £35 billion of free work last year.
British Archaeology mentions an exhibition at the Ure Museum of Greek Archaeology, on Reading's Whiteknights Campus, in its Briefing section.