Reading in the news - Wed 4 Mar
04 March 2020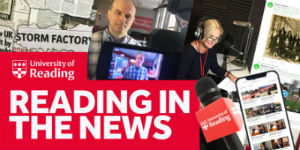 Coronavirus:
Dr Simon Clarke (Biological Sciences) is quoted in the Daily Mail and Metro on the COVID-19 virus, and interviewed on This Morning on ITV (from 5 mins) and LBC Radio.
Professor Ian Jones (Biological Sciences) is quoted in the Telegraph, Charlotte Observer and Daily News in the US on the latest developments.
An article for The Conversation, co-authored by Professor Adrian Bell (Henley Business School), examining the parallels between the Black Death in the 1300s and the current coronavirus outbreak from an economic perspective, is republished by Phil's Stock World.
Super Tuesday: Dr Mark Shanahan (Politics and International Relations) was interviewed by Arirang News in South Korea on the race to be the Democratic presidential candidate to challenge Donald Trump in the US.
Flooding: A BBC South news piece mentions land near the River Loddon owned by the University, and how it will use its expertise base to reduce flooding risk, amid a campaign to stop further development.
Other coverage
The Reading Chronicle reports on the University's clarification that an Archaeology student workshop, which involved wearing hazmat suits, was not a cause for alarm. Read our tweet.
Wokingham Paper reports on an upcoming youth climate conference, where two Reading PhD students are giving a talk on climate justice.