Reading in the news - Thu 5 Mar
05 March 2020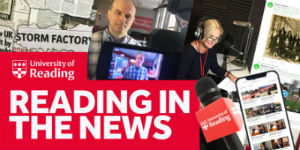 Coronavirus:
Dr Simon Clarke (Biomedical Sciences) was interviewed on TRT World, LBC and Russia Today. Dr Clarke was also quoted in The Daily Mail, Channel 4 News Online and Yahoo News.
Kathryn Whittington (Head of Admissions) spoke to BBC Radio 4's Today programme about the how the University may respond if A-level results were significantly delayed due to coronavirus.
BBC Radio Berkshire, The Breeze, Heart Berkshire, GetReading and The Reading Chronicle covered the University's response on social media to the fake claims that there was a case of coronavirus on campus. Read our tweet here.
Air pollution: The Daily Mail covers a new study which has found that air pollution cuts could cause a short-term climate change acceleration. Prof Richard Allan (Met) is quoted.
Ethical electronics: BBC Radio Berkshire and The Breeze cover the news that the University has signed up to Electronics Watch, helping to ensure all electronics products on campus are bought ethically and sustainably. Read our news story here.
Nancy Astor: Dr Jacqui Turner (History) was interviewed for the BBC's The Week in Parliament on Nancy Astor's maiden speech in Parliament.
Other coverage
Prof Anne Lawrence-Mathers (History) has written a blog for The Conversation on the medieval roots of modern weather forecast.
The Reading Chronicle features an article on the University's annual Edith Morley lecture, which will be hosted on campus this evening, featuring inspiring sportswomen.
Prof Bryan Cheyette (English Literature) has written a book review for Times Higher Education.